Miłość, terapia i elektryczność – "W pokoju obok"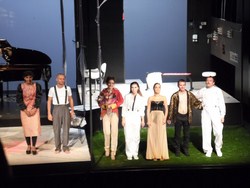 Wszystko już było – rewolucje obyczajowe także. Sarah Ruhl w sztuce "W pokoju obok" próbuje opisać jak radzono sobie z tym wyzwaniem w XIX wieku, a tarnowscy aktorzy w spektaklu wyreżyserowanym przez Łukasza Gajdzisa demonstrują to na scenie w sposób, nazwijmy to, inspirujący.
Na inaugurację tegorocznego festiwalu komedii, tarnowski teatr zaserwował sztukę Sarah Ruhl "W pokoju obok". Po obejrzeniu przedstawienia, przeznaczonego wyłącznie dla widzów dorosłych, pojawia się pytanie, o czym to właściwie jest? A jest to pełna łagodnej ironii i humoru opowieść o biegunowo różnym, damsko-męskim postrzeganiu uczuć i życia w związku oraz oczekiwaniach z tym życiem związanych, nie tylko w sferze duchowej, ale głównie, a może przede wszystkim fizycznej. I jeszcze o tym, że Edison znacznie przyczynił się do leczenia histerii...
Elektryczność w sztuce Sarah Ruhl odgrywa niemal główną rolę, a iskrzy nie tylko w pokoju obok, ale na wszystkich trzech planach sceny. Sabrina Dalry (Monika Wenta-Hudziak) odkrywa niezwykłe zalety terapii prowadzonej przez doktora Givingsa (Ireneusz Pastuszak). Metoda leczenia histerii za pomocą wibratora, w dodatku w różnych konfiguracjach płciowych, okazuje się nie tylko skuteczna, ale i wyjątkowo akceptowana. Znerwicowana i wcześniej wrażliwa niemal na wszystko pani Dalry, coraz częściej i coraz chętniej pojawia się na kolejnych zabiegach, a świat nabiera nagle zupełnie innych kolorów.
Akcja sztuki rozwija się w taki sposób, że kolejno wszyscy jej bohaterowie poznają uroki nietypowej terapii, idącej w parze z szalejącą rewolucją seksualną, zrywaniem konwenansów i rozluźnianiem ciasnych gorsetów – dosłownie i w przenośni. Zbawienna okazuje się nawet dla wypalonego malarza (Piotr Hudziak), który zaiste nie mógł przecież cierpieć na chorobę spowodowaną nieprawidłowym funkcjonowaniem macicy, za jaką uważano histerię. A jednak, za sprawą wibratora zaczyna znowu malować. W pewnym momencie wydaje się więc, że nie ma już znaczenia ani miłość, ani bliskość, ani czułość. Ważna jest tylko elektryczność, bo instrument dr Givingsa podłączony do prądu potrafi zdziałać takie cuda, o jakich nie ma pojęcia żaden mąż. No, prawie żaden. Wystarczy tylko wiedzieć, gdzie przycisnąć guzik i włożyć wtyczkę. Nic dziwnego, że brak prądu oznacza katastrofę i pogłębiającą się depresję. Temu fizycznemu szaleństwu ulega nawet spokojna, skromna i nieco naiwna pani Givings (Matylda Baczyńska), przykładna do tej pory matka maleńkiej Lotty.
Na szczęście w finale wszystko wraca do normy. Zelektryzowana rozpusta ustępuje miejsca delikatnej refleksji nad tym, że jeżeli już prąd, to tylko stały i tylko między dwoma ciałami.
Tarnowskie przedstawienie "rozkręca się" powoli. Druga część jest dużo bardziej interesująca niż pierwsza, z której niektóre fragmenty tekstu można by chyba, bez strat dla spektaklu, usunąć. Ale przedstawienie na pewno warto i należy zobaczyć. Sztuka okrzyknięta została przecież najlepszą na Broadwayu, a Sarah Ruhl uważana jest za jedną najinteligentniejszych i najzdolniejszych dramatopisarek. Trzeba tylko pamiętać, że "W pokoju obok" to "komedia erotyczna dla dorosłych z otwartymi sercami i umysłami".
Dorota Filip
22.09.2013