Ach, czemu ziejesz chłodem – "Apetyt na czereśnie"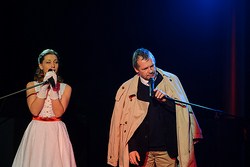 Scena Foyer w tarnowskim teatrze zaprezentowała "Apetyt na czereśnie" Agnieszki Osieckiej w reżyserii Ireneusza Pastuszaka. Tekstów Osieckiej zachwalać nie trzeba. Kto nie zna, niech obejrzy, bo prezentacja była wyjątkowo apetyczna.
Ona i on w pociągu z Warszawy. Ona świeża rozwódka, on też "po przejściach". Spotykają się w maleńkim przedziale, rozpoczynając podróż w przestrzeni – do Szczytna - i w czasie, przez swoje wspólne życie. Ich drogi rozeszły się dwa dni wcześniej, choć oboje chcieli, starali się, próbowali. I w tym przedziale, pozornie obojętni na to, że nie wyszło, powoli, stopniowo, odkrywają każde swój żal, rozczarowanie, gorycz. Opowiadają o oczekiwaniach, wysuwają pretensje, przekonują do swoich racji, udowadniają nie swoją winę.
W miarę upływu kilometrów rozwija się ta słodko-gorzka opowieść o zranionym uczuciu, które jednak, choć pokiereszowane, trwa i skłonne jest wiele wybaczyć - przygodną refrenistkę, przystojnego Tomasza, turbofabrykę i szarmanckiego kaowca. Marek (Ireneusz Pastuszak), "cichy bohater dnia powszedniego"  to mężczyzna, który wie czego chce, zrozumiał już dawno, że nieważne gdzie się mieszka i co się robi, życie i przygoda jest w samym człowieku, nie trzeba ich szukać  daleko i gdzie indziej. Zosia (Kinga Piąty) zrozumieć tego jeszcze nie potrafi, a może nie chce. Marzy o bogatym życiu wśród bogatych ludzi w wielkim mieście. Marzy o porywającej, wielkiej miłości. Nic dziwnego, że drogi tych dwojga nie mogły znaleźć punktów stycznych. A jednak oboje wciąż chcą być ze sobą, choć wciąż też nie bardzo wiedzą, jak to zrobić.
"Apetyt na czereśnie" to ciepły, kameralny spektakl, który ogląda się z ogromną przyjemnością. Tekst Agnieszki Osieckiej, przeplatany piosenkami z muzyką Macieja Małeckiego, podany został na szczęście bez udziwnień, bez uwspółcześniania, wśród genialnej w swojej prostocie scenografii. Ireneusz Pastuszak (także reżyser)  i Kinga Piąty( także scenograf)  udźwignęli z łatwością trudny aktorsko problem kilku różnych wcieleń, a całości dopełniają piosenki śpiewane z akompaniamentem dwóch pianistów (Piotr Niedojadło i Bartek Szułakiewicz) grających na żywo, co nadaje przedstawieniu jeszcze bardziej kameralno-knajpianego klimatu.
Jedyne, co trochę mnie raziło i wprowadzało dysonans w zgrabnej całości, to zbyt oficjalnie posadzona publiczność. Może, skoro spektakl przygotowany został słusznie w kawiarnianej atmosferze, a więc środowisku naturalnym Agnieszki Osieckiej i jej tekstów, należało pomyśleć o podobnej atmosferze dla widowni? Może stoliki na całym foyer i przy nich publiczność? Może jakieś inne, bardziej przyjazne dla spektaklu i widza rozwiązanie? Niewątpliwie jednak, mimo moich subiektywnych odczuć dotyczących umiejscowienia widowni, "Apetyt na czereśnie" to przedstawienie, na które w miarę upływu czasu nabiera się coraz większego apetytu.
Dorota Filip
01.02.2014