Jaka Europa, taka królowa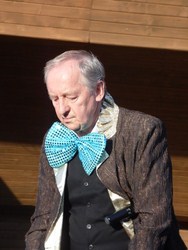 z Andrzejem Rosiewiczem rozmawiała Dorota Filip
Jak taki człowiek jak Pan – doświadczony artysta, który nazywa siebie "uśmiechem PRLu" patrzy na dzisiejszą rzeczywistość?
Nie chciałbym nikogo obrażać, ale upolitycznienie państwa jest potworne. Rządzący nie myślą kategoriami Polski, patriotyzmu i wartości narodowych, myślą o sobie. Nie jestem pewny, czy nie ma tu nacisku ze strony Unii Europejskiej, która każe robić tak, by wykrzewić to co polskie i wartościowe. Że niby to wstyd. Przykładając to do mojej branży uważam, że między innymi po to powstały te tzw. play listy. Siedemdziesiąt procent tej muzyki to muzyka anglosaska. W jednym z ostatnich wywiadów powiedziałem, że być może jest tak, że do określonej stacji radiowej przychodzi jakiś producent i płaci – bo to wszystko przecież zwykle opiera się na pieniądzach. I taka stacja, dostając konkretną kasę, puszcza to co trzeba. A ludzi niezależnych takich jak Pietrzak, Rosiewicz i wielu innych w ogóle nie ma. Nie ma w radio, nie ma w telewizji. A to oni dostarczają rozrywkę na jakimś poziomie, dla inteligentnych widzów.  Że tych inteligentnych nie ma za dużo, trzeba wykonać pracę u podstaw. A my tej pracy w ogóle nie wykonujemy. Wręcz przeciwnie. Danie ludziom sklepów, marketów i grillowania to za mało. Wszystko bierze się z mózgu i dobrej woli. Jeśli ktoś ma mózg i dobrą wolę i jeszcze trochę troski o to co robi, to to się będzie rozwijało. To tak jak z pączkami, które rozwijają się w kwiaty, ale trzeba o roślinę dbać. Tymczasem nam puszcza się seriale i średniej klasy kabarety i te lody cały czas się kręcą. Ja nie widzę tu troski o rozwój słuchacza czy widza. A przecież te misyjne media powinny mieć przede wszystkim misję rozwoju człowieka, a nie dawania mu papki, takiego rozmemłanego hamburgera. Ale cóż, rządzą nami zdrajcy. Ot, choćby Lasy Państwowe gdzie jakaś mądra głowa rzuca wniosek, żeby mundury leśniczych pozbawić orzełków. Przecież to jest zdrajca i anty-Polak. Ja chętnie bym się dowiedział, kto to wymyślił. A on nie jest osamotniony. Facetów działających anty-polsko jest dużo. Za dużo.
Był pan kiedyś niekwestionowaną gwiazdą estrady o którą zabiegały sceny wszystkich festiwali. Jak ta estrada wygląda dzisiaj? Można to w ogóle jakoś porównać?
Kiedyś było zupełnie inaczej. Inny poziom. Na przykład na festiwalach były powoływane rady artystyczne. Taka rada, złożona z literatów, muzyków, mądrych, znających się na rzeczy ludzi, wiedziała od razu, co jest sztuką, a co nie. I przepuszczała tylko sztukę. A dzisiaj? Nie chcę wymieniać nazwisk, ale ktoś, kto gdzieś tam puszcza jakąś muzykę, nagle zostaje dyrektorem festiwalu. I robi mnóstwo błędów. Chociażby jubileusze Opola. Wielu artystów jeszcze żyje i powinno się pokazać młodym ludziom wszystkich dawnych zdobywców pierwszych nagród. Pokazać, dzięki czemu te zwycięstwa odnosili. A tam nie dość, że żadnych tych nazwisk nie ma, to jeszcze niszczą piękne piosenki. Na przykład moją – "Witaminy". Ja jestem facetem, który bardzo dobrze to wykonuje, bo ja to czuję. A tu biorą Kasę Kasowkiego i gdyby to był człowiek, który robi to inaczej, ale dobrze, to ja bym powiedział, że fajnie. Ale facet niszczy tę pio6senkę. Chodzi smutny, patrzy w podłogę, ani w tym życia, ani talentu. Po prostu nie pasuje do tej piosenki. Ja nie wiem, czy to jakiś układ czy co, że puszczają takich gości. Ogólnie zalatuje to żałością. I takie byle jakie tendencje są w całej Europie. Baba z brodą wygrywa jakiś tam festiwal i mówią o niej "królowa Europy". A ja mówię – jaka Europa, taka królowa. Wkrótce będę miał jubileuszowy koncert "40 lat minęło" i będzie na nim między innymi Jerzy Gruza. Niezwykle wybitny reżyser teatralny i rewiowy, z całą masą zasług dla kultury. Gruza dwa lata temu ukończył 80 lat, ale że jest poza układem, nie ma go. Nie było żadnego świętowania, żadnego jubileuszu. A ja już wiem, że na moim koncercie powiem do niego "Panie Jerzy, witam pana na gruzach polskiej rozrywki".
Wielu artystów sprzed lat dwudziestu, trzydziestu, czterdziestu pamięta się do dzisiaj. Teraz sporo gwiazd pojawia się i znika, nie zostawiając po sobie zbyt wiele. Jest wśród nich ktoś, kto według Pana zasługuje na szczególną uwagę?
Zbyt dokładnie tego nie śledzę. Ale z tego, co śledzę, widzę że jest paru niezłych raperów. A ja mogę się trochę uważać za pioniera rapu, choć wtedy nikt jeszcze o rapie nie słyszał. Przecież o Zenku opowiadałem prawie rapując – "Rusz się Zenek, śnieg na dworze. Zenek wstań bo będzie gorzej..." . Opowiem pewną historię – otóż gdy była wojna w Iraku ja przygotowałem całą płytę o tej wojnie. Taki protest song, a raczej protest płyta. Bo jak to jest, że Amerykanie i inni okupanci, a my razem z nimi, wpieprzamy się do jakiegoś kraju, żeby niby wprowadzić mu demokrację. A - jak słusznie zauważył pewien amerykański bankier - przykre jest, że mówimy o demokracji gdy chodzi o ropę. Zaczęło się od piosenki "Mamo, ja chcę do Iraku". Fajna piosenka, cała płyta fajna. Jakiś czas po wydaniu płyty byłem gdzieś, chyba w Opolu gdzie nagle na scenę wyszedł pewien raper i to co robił też było o Iraku. I słuchając go odkryłem zadziwiającą bliskość spojrzenia na ten temat. Wracając do tematu – paru raperów na pewno wartych jest uwagi i to są naprawdę mądrzy faceci. Pamiętam też jednego, takiego trochę w moim stylu, który śpiewał piosenki Sinatry. A Sinatra ze swoimi swingującymi tematami jest mi bardzo bliski. Oglądałem właśnie jakiś koncert na żywo. Przy fortepianie Krzysztof Herdzin, świetny pianista , a na scenie tenże młodzian o bardzo przyjemnej aparycji. Wykonał te piosenki świetnie. Nawiasem mówiąc oglądałem to zdaje się o wpół do dwunastej w nocy. O takich właśnie porach nadaje się u nas dobre polskie programy. Wcześniej leci byle co i byle jak, a przecież ktoś chyba siedzi nad tym programem i myśli. Przynajmniej wydaje mi się, że myśli.
Zaraz wychodzi Pan na scenę. Wiele być może od najlepszych Pana lat się zmieniło, ale forma i energia wciąż ta sama. Co tym razem usłyszymy?
To, czego ludzie zawsze oczekują. Stare i wiecznie żywe przeboje Andrzeja Rosiewicza, dziś skocznego "pułkownika moherowych beretów".
Dziękuję i powodzenia.
22.06.2014