Człapiąc po Krupówkach - "Człapówki. Zakopane"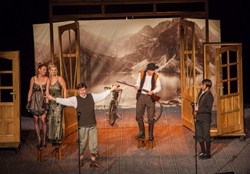 "A to Polska właśnie!" – chciałoby się zakrzyknąć Wyspiańskim, choć na scenie Strug. Strug pełen błyskotliwego humoru, swobody i mądrości. I choć to obraz Polski sprzed lat niemal stu, to ogląda się ją jak tą tu i teraz. Aktorzy Teatru im. Stanisława Ignacego Witkiewicza w Zakopanem dali podczas tegorocznej "Talii" w Tarnowie popis scenicznej swobody, humoru i mądrości.
Słodko-gorzki – to określenie idealnie pasuje do spektaklu "Człapówki. Zakopane", z którym do Tarnowa przyjechał Teatr im. Stanisława Ignacego Witkiewicza w Zakopanem.
Słodki, bo w scenerii Zakopanego lat międzywojennych, na tle rzewnego obrazka Morskiego Oka i wysokich szczytów, z roześmianymi i rozśpiewanymi pannami, knajpianą orkiestrą i ludową kapelą.
Gorzki, bo obok błyskotliwego dowcipu i wyrafinowanego humoru, zabawnej pomysłowości sytuacyjnej, swobody i rozmachu, trafność diagnozy typów ludzkich i mechanizmów władzy pozostawia, mimo śmiechu, posmak goryczy. Bo widać jak na dłoni, że Polska, że Polacy tacy sami są dziś, jak przed stu laty, a Zakopane nieustannie jest "very interesting".
Powieść Andrzeja Struga "Wielki dzień. Kronika niedoszłych wydarzeń", która stała się punktem wyjścia do "Czapówek..." ubiera w komediowy kostium sprawy polityki, pokazuje w niezbyt dobrym świetle charakter Polaków, przestrzega przed nadmierną fascynacją władzą. Osadzona w realiach dwudziestolecia międzywojennego teatralno-muzyczna opowieść opisuje gorączkowe przygotowania do wizyty w Zakopanem Dyktatora, portretuje typy przedstawicieli różnych warstw społecznych i doskonale oddaje klimat Zakopanego, do którego przed wojną zjeżdżała cała elita, także artystyczna.
Reżyser spektaklu, a zarazem współtwórca zakopiańskiego teatru Andrzej Dziuk, wykorzystał w przedstawieniu teksty piosenek Jana Brzechwy, Mariana Hemara i Stanisława Porębskiego, do których muzykę napisał Jerzy Chruściński. Aby nikt nie miał najmniejszych wątpliwości, w którym miejscu świata toczy się akcja, podsumowaniem spektaklu jest rzewna góralska muzyka w wykonaniu prawdziwej, "żywej" kapeli.
W przedstawieniu, podobnie jak w powieści przewijają się wątki wszelakie – polityczny, obyczajowy, homoseksualny (sic!), a nawet... ekologiczny (Spierzączka przytykolistna, święte kępki najrzadszej rośliny bożej.Trzy miejsca na kuli ziemskiej, a między nimi Polska! Co za chwała...).
Wszystko, ubrane w satyrę i groteskę, śmieszyło zapewne w latach dwudziestych ubiegłego wieku, śmieszy i dziś. I to najbardziej daje do myślenia. Bo wynika z tego, że nic się nie zmieniło. Ani polityka, ani obyczaje, ani my wreszcie. Taki niereformowalny i nie wyciągający nauki z błędów "elektorat idiotów".
Podany z wdziękiem, gracją, lekkością i inteligencją spektakl należy niewątpliwie do tych, o których pamięta się bardzo długo.
Dorota Filip
30.09.2014