Ciepła woda, gorąca atmosfera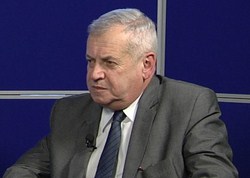 Ze Zbigniewem Sipiorą, prezesem Tarnowskiej Spółdzielni Mieszkaniowej rozmawiała Dorota Filip
Panie prezesie, w bloku przy ulicy Piastowskiej, w związku z pracami doprowadzającymi centralną ciepłą wodę, pojawiły się ulotki, enigmatycznie podpisane "Członek Spółdzielni",  w których padają pytania i zarzuty pod adresem Tarnowskiej Spółdzielni Mieszkaniowej. Chciałabym, aby odniósł się Pan po kolei do każdego z nich.
Widziałem tę ulotkę. Nie rozumiem, po co ktoś taki jak podpisany tam "Członek Spółdzielni" kolportuje tego typu pismo. Pisze się tam o ograniczeniu wolności wyboru, ale przecież to jest spółdzielnia. Decyduje większość, a mniejszość musi się dostosować.
Do wolności wyboru jeszcze dojdziemy. Zacznijmy od początku. Centralną ciepłą wodę mieli najpierw mieć tylko ci, którzy wyrazili na to chęć. Teraz spółdzielnia zdecydowała, że będą ją mieć wszyscy. O jakiej "bliżej nieznanej uchwale TSM", która zmienia warunki realizacji i finansowania prac, mowa w ulotce?
Gdyby ten ktoś pofatygował się do spółdzielni i porozmawiał ze mną, wiedziałby, że nie tylko uchwała jest znana, ale także to, że już w czerwcu ubiegłego roku zapowiadałem  na Walnym Zgromadzeniu, że będziemy doprowadzać centralną ciepłą wodę do jak największej liczby mieszkań. Decyzją zarządu przyjęliśmy, że na początek będą to bloki przy ulicy Piastowskiej, Fąfary, Urwanej i Gumniskiej. Mówi o tym uchwała 98/14 z dnia 14 października 2014 roku.
Na czym dokładnie polega owa zmiana warunków realizacji prac programu "Centralna ciepła woda – komfort i bezpieczeństwo"?
Początkowo centralna ciepła woda miała być doprowadzona tylko do tych mieszkań, których lokatorzy wyrazili na to zgodę, Dlatego w ubiegłym roku, ci, którzy chcieli, podpisywali z Miejskim Przedsiębiorstwem Energetyki Cieplnej stosowne umowy, zgodnie z którymi mieli ponieść z własnych środków opłatę w wysokości 500 złotych – za wykonanie przyłącza wraz z wodomierzem i demontaż piecyka gazowego. Nie wiedzieliśmy jeszcze, ile osób się na to zdecyduje i jakie będzie zainteresowanie. Ale wiedzieliśmy, że wkrótce konieczny będzie remont przewodów kominowych. Po 40 latach eksploatacji przewody są, mówiąc delikatnie, w nie najlepszym stanie. Taki remont jest kosztowny. Z naszych wyliczeń wynika, że kosztuje mniej więcej czterokrotnie więcej niż doprowadzenie ciepłej wody. Dlatego gdy okazało się, że zdecydowana większość mieszkańców bloków przy ulicy Piastowskiej wyraziła chęć przystąpienia do programu centralna ciepła woda, zdecydowaliśmy, że doprowadzimy ją do wszystkich mieszkań. Również do tych, których mieszkańcy nie wyrazili na to zgody. Inaczej mieszkańcy, którzy będą mieli ciepłą wodę, musieliby partycypować także w kosztach remontu przewodów kominowych, z których sami nie korzystają. I nie sądzę, aby się na to zgodzili, a pamiętajmy, że wciąż mówimy o większości lokatorów. Mówię o blokach przy ulicy Piastowskiej, bo to one jako pierwsze zostaną w 100 procentach zaopatrzone w centralną ciepłą wodę. Chciało tego 70 procent mieszkańców, dlatego pzostałe 30 procent musi się dostosować. I tak będzie w każdej naszej nieruchomości, w której więcej niż 50 procent mieszkańców będzie chciało doprowadzenia wody.
Skąd taka decyzja i determinacja?
Przede wszystkim ze względów bezpieczeństwa. Co chwilę przecież słyszymy o wypadkach i katastrofach, do których dochodzi z powodu gazu. Co rusz odkrywane są usterki, wady i rozszczelnienia. Trudno czekać, aż zdarzy się tragedia. Polak nie zawsze musi być mądry wyłącznie po szkodzie. Jeżeli jest okazja i szansa, należy bezwzględnie eliminować zagrożenie. Ogólne tendencje są zresztą takie, by "wychodzić" z instalacji gazowych. W nowo budowanych wysokich budynkach nie wolno już instalować gazu, tylko prąd. Gdy coś się stanie z prądem – po prostu go nie ma. Gdy zawiedzie gaz, robi się niebezpiecznie. A nasze bloki są stare. Stare są tym samym instalacje. O przewodach kominowych już mówiłem – wymagają szybkiego remontu. Dlatego naprawdę warto ograniczyć zagrożenie. Gaz w blokach i tak pozostanie, bo jest w kuchenkach. Ale kuchenka to zupełnie co innego niż piecyk gazowy w łazience.
Przejdźmy do pieniędzy, bo to wzbudza zawsze najwięcej emocji. Spółdzielnia zdecydowała, że pokryje koszty z funduszu remontowego, nie będzie zakładanych wcześniej indywidualnych wpłat, a spłata zadłużenia wobec MPEC rozłożona zostanie na 10 lat. W ulotce pada pytanie o koszt całości, odsetki i ewentualne problemy ze spłatą. Sugerowany jest także tajemniczy "układ" spółdzielni i MPEC.
Przede wszystkim zacznijmy od zdania, że  "spółdzielnia nie zapłaci ze swoich pieniędzy, tylko z naszych". To jest absurdalne stwierdzenie, bo spółdzielnia nie ma żadnych swoich pieniędzy. Wszystkie pieniądze są pieniędzmi lokatorów, taka jest idea spółdzielni. A wracając do kosztów – owszem, doprowadzenie ciepłej wody sfinansujemy z funduszu remontowego, bo on do tego służy. Prawdą jest także to, że spłata zadłużenia wobec MPEC rozłożona jest na 10 lat, ale nieprawdą jest, że z odsetkami. Nie tylko nie ma mowy o żadnych odsetkach, ale także, na mocy negocjacji i umów podpisanych z MPEC, na budynki przy ulicy Piastowskiej otrzymaliśmy 58 procent bonifikaty, na wszystkie następne 50 procent. Nieprawdą jest też, że pierwotnie spółdzielnia miała nie ponosić żadnych kosztów, bo to  lokatorzy mieli płacić po 500 złotych. Te 500 złotych to była opłata tylko za prace w mieszkaniu. Koszt poprowadzenia instalacji na klatkach schodowych i tak spadał na spółdzielnię. A teraz szczegóły. Ponieważ w blokach są klatki z różną liczbą mieszkań, przyjmijmy klatkę, w której takich mieszkań jest 15. Koszt instalacji w takiej klatce to 21 900 złotych. To oznacza, że każde mieszkanie kosztuje 1460 złotych, czyli przez 10 lat jest to 146 złotych rocznie, a więc niewiele ponad 12 złotych miesięcznie. A fundusz remontowy i tak wciąż regularnie będzie gromadzony, więc nie ma niebezpieczeństwa, że braknie pieniędzy na jakieś bieżące, niespodziewane a konieczne prace. Nie rozumiem też, skąd miałyby się wziąć problemy ze spłatą. Do sugestii "układu" między spółdzielnią a MPEC nie będę się odnosił, bo brak słów.
Co Pan na to, że pismo informujące o instalacji centralnej ciepłej wody u wszystkich nie zostało mieszkańcom dostarczone "w sposób prawnie zobowiązujący"?
Pismo rozniesione zostało do skrzynek na listy i w ten sposób na pewno trafiło do każdego lokatora. Dziwię się, że ktoś, kto tak troszczy się o oszczędności jak podpisany "Członek Spółdzielni" , oczekuje równocześnie kosztownej korespondencji. Zwłaszcza, że było to pismo informujące o podjętej przez zarząd decyzji i nie wymaga żadnej zgody ani odpowiedzi. Dodatkowo pismo zostało umieszczone na tablicach i w gablotach informacyjnych, które znajdują się w każdej klatce. W ten sposób mieliśmy pewność, że każdy lokator będzie mógł zapoznać się z jego treścią.
A co w sytuacji, gdy ktoś jednak zdecydowanie odmówi podłączenia instalacji i na przykład nie wpuści do mieszkania ekipy monterów?
Będziemy oddawać sprawę do sądu. Wolność wolnością, ale jeżeli ktoś jest członkiem spółdzielni, musi podporządkować się decyzji większości. Ja rozumiem, że ludzie liczą każdą złotówkę. Wiem też, że opłaty za mieszkania nie są małe. I naprawdę szukamy oszczędności i korzystnych rozwiązań. Ze spółdzielni zwolnionych zostało 40 osób. Ponieważ odbyło się to na zasadach zwolnień grupowych, musimy im zapłacić odprawy. Ale za jakiś czas oszczędności staną się odczuwalne. Zrobimy wszystko, by uniknąć podwyżek czynszu, oczywiście w tym zakresie, który zależy od spółdzielni. Ale musimy też przeprowadzać niezbędne inwestycje i konieczne remonty. Liczyć, kalkulować, i jeżeli większość lokatorów jest za – realizować.
Dziękuję za rozmowę.
13.03.2015