Teologia – narzędzie wyboru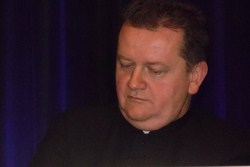 Z księdzem profesorem Januszem Królikowskim, Dziekanem Wydziału Teologicznego Sekcja w Tarnowie Uniwersytetu Papieskiego Jana Pawła II w Krakowie rozmawiał Piotr Filip
Trwają egzaminy maturalne, młodzi ludzie podejmują decyzje co do kierunku studiów. W Tarnowie można wybrać również teologię, ale czy jest to oferta dla wszystkich?
W zasadzie tak. Studia teologiczne podejmują zarówno kandydaci do kapłaństwa, jak i osoby świeckie. Studia dla obydwu tych grup odbywają się osobno i nieco się różnią. Specyfika przygotowania do kapłaństwa narzuca nieco inny charakter studiowania. Studentowi świeckiemu nie jest potrzebna na przykład szczegółowa wiedza na temat spowiedzi. Świeckim proponujemy teologię, która ma charakter, nazwijmy to, apologetyczny. Odpowiada na pytanie jak odnajdować się w dzisiejszym świecie na gruncie wiary chrześcijańskiej, uczestnicząc w życiu społecznym, czy nawet politycznym. Zapewniam, że absolwenci studiów teologicznych odnajdują się w różnych instytucjach i różnej aktywności. To nie jest tak, że pozostaje im jedynie praca katechetów. Są kierunki studiów, które dają konkretny zawód i są takie, które dają wykształcenie, czyli narzędzia do wyboru różnych dróg życiowych. Studia teologiczne należą do tych drugich, dlatego sądzę, że zasadne jest zaproszenie wszystkich chętnych.
Jak to wygląda technicznie i formalnie?
Dokumenty i informacje związane z rekrutacją znaleźć można na naszej stronie internetowej. Osoby świeckie mogą realizować specjalność katechetyczno –pastoralną. Podstawą przyjęcia są wyniki świadectwa dojrzałości. Niezbędne dokumenty należy złożyć w sekretariacie Wydziału przy ulicy Piłsudskiego 6. W tym roku nie prowadzimy jeszcze naboru drogą elektroniczną, ale to kwestia bliskiej przyszłości.
Czy można studiować w trybie wieczorowym lub zaocznym?
Nie. Studia mają charakter stacjonarny. Można je łączyć z pracą zawodową i inną aktywnością, ale w zajęciach należy uczestniczyć zgodnie z programem. To nie są studia, które można zaliczyć pojawiając się na uczelni raz w tygodniu, czy raz w miesiącu na kilka godzin. Mamy grupę studentów nieco starszych, którzy maturę zdawali przed laty. Osoby te chcą pogłębić swoją wiedzę lub zainteresowania. Przyjmujemy takich studentów, ale oni przechodzą taki sam cykl studiów i realizują program jak wszyscy inni. Mamy również wolnych słuchaczy, którzy uczestniczą w niektórych tylko zajęciach, czy słuchają wybranych wykładów.
Studia w Tarnowie kończą się licencjatem?
Prowadzimy jednolite studia magisterskie, bez podziału na stopnie "trzy plus dwa". Studia kończą się tytułem zawodowym magistra, a ich jednolitość uważam za zaletę. Na system dwustopniowy wszyscy narzekają, przyczynił się on bowiem do obniżenia poziomu studiów. Po studiach licencjackich można zmienić kierunek, często zmienia się uczelnię, a to wszystko nie sprzyja zdobywaniu wiedzy. System dwustopniowy stworzono na uniwersytecie w Bolonii i wprowadzano w całej Europie pod hasłem ujednolicenia systemu, co miało pomóc w wymianie studentów. Tymczasem uniwersytet w Bolonii już odstąpił od systemu, który sam stworzył.
Student rozpoczyna naukę w Tarnowie i kończy ją po pięciu latach również w Tarnowie tytułem magistra?
Tak. To kolejna zaleta, bo studia w Tarnowie na pewno są tańsze niż w wielkich ośrodkach. Nie mam tu na myśli opłat za studia, bo nasze studia są bezpłatne, jak na uczelniach państwowych. Jesteśmy integralną częścią Uniwersytetu Papieskiego Jana Pawła II w Krakowie i zapraszamy na studia uniwersyteckie.
Dużo osób świeckich decyduje się na studia teologiczne?
W przypadku Tarnowa mamy na roku średnio kilkanaście osób. Był czas, gdy było ich kilkudziesięciu, ale i my doznajemy skutków niżu demograficznego. Uważam jednak, że w mniej licznej grupie warunki do studiowana są bardziej korzystne. Natomiast co do decyzji w sprawie wyboru kierunku studiów – coraz więcej młodych ludzi zdaje sobie sprawę, że nie wystarczyć ukończyć "marketing i zarządzanie", by odnieść w życiu sukces. Widzę pole do renesansu szeroko rozumianych nauk humanistycznych. Słyszę także w środowisku  naukowym, ekonomistów czy biznesu, argumenty na rzecz zasad, wartości, a nawet nauki społecznej Kościoła i wcale nie wygłaszają ich osoby bardzo religijne. W Japonii w okresie boomu gospodarczego na przełomie lat siedemdziesiątych i osiemdziesiątych zwiększano również nakłady na kulturę, naukę i oświatę, by zapewnić zrównoważony rozwój społeczny.
Absolwenci Wydziału mogą kształcić się dalej, właśnie na uniwersytecie w Krakowie?
Nie prowadzimy jeszcze studiów doktoranckich, może w przyszłości uda się do tego doprowadzić. Możemy jednak nadawać stopień doktora teologii posiadającym licencjat kanoniczny. W każdym razie dla naszych absolwentów drogi dalszego kształcenia są otwarte, zarówno w Krakowie, jak i w każdej innej uczelni.
12.05.2015