Podejrzane etycznie - "Twardy gnat, martwy świat"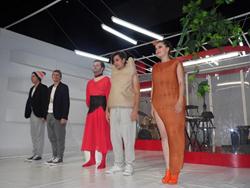 Na tegoroczny Festiwal Komedii "Talia" kielecki teatr przywiózł ze sobą dobrą wiadomość dla domorosłych pisarzy – każda grafomańska książka może stać się porządną sztuką. Co więcej, świadome tworzenie złych dzieł ma przed sobą kolosalną przyszłość. "Twardy gnat, martwy świat" to nie tylko żart z języka. To kpina z całych tych, jak to mówił Josif Brodski, "niskogatunkowych czasów".
Kiedy Marcin O. napisał grafomańską książkę "Ten, który sprzeciwił się szatanowi", wydaną w 15 (sic!) egzemplarzach, nawet w najśmielszych marzeniach nie przypuszczał - i słusznie - że stanie się ona fundamentem spektaklu teatralnego zaprezentowanego przez Teatr im. S. Żeromskiego w Kielcach.
Mateusz Pakuła, autor sztuki "Twardy gnat, martwy świat", wykorzystuje to, czego czytać się nie da i obficie cytuje nieszczęśnika znęcając się nad kolejnymi fragmentami jego książki.
Pakuła odkrył bowiem, że nie ma potrzeby wymyślać złego tekstu skoro jest on już gotowy, a potrzebę jego użycia wyjaśnia krótko. - Tu chodzi o zachwyt nad pisarską ułomnością. Nad nieudolnością. Im większa nieudolność, tym smaczniejsza sztuka.
A sztuce smaczności odmówić nie można. Jest w niej wszystko i wszystko osiąga granice absurdu. I Hans Klops, współczesny Hiob, który nieustannie ma pod górkę i idiotyzmy, których pełne są dzisiejsze media i telewizyjny, pełen nieporozumień  talk show z... Davidem Beckhamem w tle, podczas którego przychodzi autorowi wytłumaczyć się z kradzieży książki. - Otóż od razu chciałbym zaznaczyć, że to co zrobiłem jest bardzo nowatorskie ponieważ jest to podejrzane etycznie...
Podejrzanych etycznie jest dzisiaj wiele "nowatorskich" rozwiązań. Reżyserka spektaklu Eva Rysová wiernie trzyma się tekstu Pakuły, a niedorzeczne rozwiązania inscenizacyjne tylko ten przekaz wzmacniają. Muzyk - grzyb, aktorka - instrumentalistka - marchewka, a równocześnie prezenterka telewizyjna zamknięci w ciasnych przeźroczystych pojemnikach, fotele w formie kubeczków ze śmietanką do kawy, akcja w lodówce - to tylko niewielka część tego, co dzieje się na scenie. A dzieje się tak szybko, że aktorzy zmuszeni są chwilami wychodzić ze swoich ról.
Spektakl to jednak przede wszystkim aktorski popis Andrzeja Platy grającego jednocześnie mnóstwo dziwacznych wytworów wyobraźni autora. Plata w tych wcieleniach najwyraźniej czuje się świetnie, a przytrafiające mu się improwizacje wywołują na widowni salwy śmiechu. I nie wiadomo, co lepsze - Hans Klops, który razem z Billy Planktonem walczy z lwami, czy aktor z Kielc odwalający na scenie padaczkę po dwóch miesiącach ćwiczeń i czterech latach szkoły teatralnej.
"Twardy gnat, martwy świat" to doskonały żart, kpina ze współczesnej sztuki i czasów, w których przyszło nam żyć. Czasów ze złą literaturą, kiepskimi filmami i telewizyjną papką.
Dorota Filip
23.09.2015