Pomniki zapomnianych bohaterów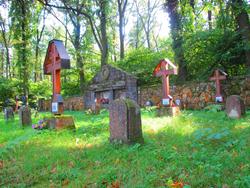 Do dziś widocznym efektem działań wojennych z lat 1914 – 1915 jest na terenie Galicji Zachodniej ponad 400 cmentarzy wojennych. Spoczywają na nich żołnierze wielu narodowości, w tym spora liczba Polaków. W samym Tarnowie ciała poległych żołnierzy złożono na kilku cmentarzach.
Po kampanii galicyjskiej lat 1914 – 1915 pozostało na terenie Galicji Zachodniej tysiące prowizorycznych żołnierskich mogił i masowych grobów. Kiedy rozpoczęto ich porządkowanie, ekshumacje i ponowne pochówki okazało się, że w samym tylko regionie tarnowskim ekshumowano ponad 40 tysięcy ciał żołnierzy armii austro – węgierskiej, niemieckiej i rosyjskiej. Byli w tym gronie nie tylko Austriacy, Niemcy i Rosjanie, ale także Polacy, Żydzi, Serbowie, Włosi oraz ogromna liczba żołnierzy nieznanych i niezidentyfikowanych.
3 listopada 1915 roku w wiedeńskim Ministerstwie Wojny utworzony został Wy­dział Grobów Wojennych, równocześnie powołano jego terenowe struktury. Na czele Krakowskiego Wydziału Grobów Wojennych stali major Rudolf Broch i kapitan Hans Hauptmann.
Cały obszar Galicji podzielono na 11 okręgów. Okręg tarnowski nosił numer szósty i zbudowano na jego terenie, według danych z 1918 roku, 62 cmentarze. Na terenie całego dawnego województwa tarnowskiego zlokalizowanych było 199 cmentarzy wojennych z okresu I wojny. Na terenie samego miasta żołnierskie mogiły pojawiły się na kilku cmentarzach.
Największym z nich był dawny cmentarz garnizonowy przy wyjeździe z Tarnowa w kierunku Dąbrowy Tarnowskiej. W kwaterze wojennej pochowano na nim 1485 żołnierzy. Pochowano ich w 165 mogiłach pojedynczych i 28 zbiorowych. Większość (803 osoby) to żołnierze nieznani. Ostatni spoczywający tu żołnierze zmarli 25 maja 1915 roku. Z ewidencji wynika, że pochowano na tym cmentarzu 680 żołnierzy austro – węgierskich, 9 z armii niemieckiej oraz 796 żołnierzy carskich.
Kiedy "stary" cmentarz garnizonowy zapełnił się mogiłami, utworzono "nowy" w Tarnowie-Chyszowie. Tam spoczywa 1358 żołnierzy I wojny – najwięcej, 760, żołnierzy armii rosyjskiej. Ponadto 535 żołnierzy armii austriackiej, 47 żołnierzy armii niemieckiej oraz dziewięciu żołnierzy narodowości włoskiej, czterech Serbów i dwóch Polaków.
Na tym cmentarzu chowano nie tylko poległych w latach 1914 i 1915, ale także żołnierzy zmarłych w późniejszym okresie, aż do roku 1918, w szpitalu wojskowym.
Kolejne miejsce pochówku poległych w działaniach wojennych znajduje się na rogatkach miasta, po prawej stronie drogi w kierunku Krakowa. Na tym cmentarzu spoczywają, w 27 mogiłach zbiorowych i dwóch pojedynczych, wyłącznie żołnierze rosyjscy w liczbie 104. Większość z nich służyła w IX Korpusie Rosyjskim, którego dowództwo stacjonowało w budynku klasztoru i zakładu wychowawczego sióstr sercanek w Zbylitowskiej Górze. Od stycznia 1915 roku siedziba dowództwa była ostrzeliwana przez niemiecką artylerię najcięższego kalibru. Spoczywający na cmentarzu żołnierze to w przede wszystkim ofiary tego ostrzału.
Część ofiar wojny pochowano na istniejących już cmentarzach. Na tarnowskim kirkucie spoczywa 54 żołnierzy armii austro – węgierskiej i rosyjskiej narodowości żydowskiej. Ostatnich pochowano już po zakończeniu wojny – w grudniu 1918 roku.
Żołnierskie mogiły z okresu I wojny znajdują się także na Starym Cmentarzu u zbiegu ulic Narutowicza i Tuchowskiej. Pochowano tu 25 żołnierzy armii – węgierskiej, w większości Polaków.
Ostatnia kwatera wojenna w Tarnowie znajduje się na cmentarzu w Krzyżu. Pierwotnie była to kwatera 35 żołnierzy żołnierzy rosyjskich. Jako pierwszy został pochowany Jeremij Kowtun, inne nazwiska nie są znane. Dziś miejsce to rozpoznać można jedynie po betonowym, dwuramiennym krzyżu. 31 sierpnia 1931 roku pochowano tutaj także generała Mykołę Junakiwa, Szefa Sztabu Generalnego Sił Zbrojnych Ukrainy, Ministra Spraw Wojskowych Ukraińskiej Republiki Ludowej - rządu URL na wychodźstwie, którego siedziba mieściła się w Tarnowie.
Przypominając miejsca pochówku żołnierzy wielkiej wojny warto także przypomnieć, że przez kilka dziesięcioleci były to, nie tylko w Tarnowie, miejsca zapomniane, zaniedbane i bardzo często zniszczone. Tymczasem galicyjskie cmentarze wojenne to swoisty fenomen. W ciągu trzech lat, w warunkach gospodarki wojennej i wynikających z tego ograniczeń, zaprojektowano i stworzono setki cmentarzy, na których pochowano dziesiątki tysięcy poległych. Było to pierwsze w historii wojen w Europie, realizowane w takiej skali i na tak profesjonalnym poziomie, przedsięwzięcie państwa, które wzięło na siebie ciężar pogrzebania i upamiętnienia żołnierzy. Nie tylko własnych, także armii sojuszniczej, a nawet przeciwnej. Ale też była to pierwsza prowadzona na taką skalę wojna.
Na szczęście w ostatnim okresie stosunek do wojennych mogił zmienił się diametralnie. Stały się obiektem zainteresowania. Dostrzegamy w nich cenne, choć przecież tragiczne, zabytki i pamiątki tragicznego czasu.
03.01.2016