Ekonomia w gospodarce osadami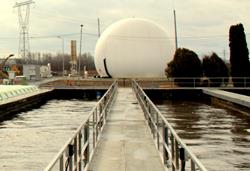 Brak nieprzyjemnych zapachów, zmniejszenie ilości osadów i ograniczenie ich uciążliwości dla środowiska. To podstawowe zalety uruchamianej w Tarnowie instalacji do utylizacji osadów ściekowych. Inwestycja kosztowała kilkadziesiąt milionów złotych, jednak dzięki zastosowaniu najnowocześniejszych technologii jej utrzymanie nie będzie drogie. Nowoczesna technologia gwarantuje to niemal pełną samowystarczalność energetyczną przedsięwzięcia.
Na terenie oczyszczalni zlokalizowano dwa wielkie cylindry, posiadające po dwa tysiące metrów sześciennych pojemności i prawie dwadzieścia metrów wysokości. Pomagają w eliminacji uciążliwości osadów ściekowych. Zazwyczaj osady w oczyszczalni wydzielają nieprzyjemne zapachy, co jest związane z procesami ich fermentacji. - Ponieważ w obrębie nowej instalacji zostają one najpierw poddane termicznej hydrolizie, a następnie trafiają do specjalnych komór fermentacyjnych uciążliwość zapachowa została praktycznie wyeliminowana – przekonuje dr Tadeusz Rzepecki, prezes Tarnowskich Wodociągów. Wpłynęło na to także zhermetyzowanie zbiornika generowania lotnych kwasów tłuszczowych. Ten właśnie proces wiązał się z wydzielaniem gazów o nieprzyjemnym zapachu. Teraz wysokoenergetyczny biogaz, w którym metan stanowi 2/3 składu jest już przetwarzany na prąd, przy wykorzystaniu silników gazowych. - Z niespełna 2 MW mocy, zawartej w utworzonym w ten sposób biogazie odzyskujemy ponad 0,8 MW energii elektrycznej oraz 0,92 MW energii cieplnej – wylicza prezes Rzepecki.
Zapotrzebowanie oczyszczalni na prąd jest w ten sposób zaspokojone w ponad 70 %.  Na instalacji osadowej wykorzystywane jest także ciepło. Chodziło o to, aby jak najmniej energii się marnowało, dlatego spaliny z gazogeneratorów o temperaturze sięgającej 450 stopni C są wykorzystywane do produkcji pary technologicznej, niezbędnej do termicznej hydrolizy osadów. Gazogeneratory chłodzi woda, wykorzystywana następnie w procesie suszenia osadów na specjalnym taśmociągu. Nawet energia konwekcyjna z silnika gazowego, który także się grzeje, jest dodatkowo wykorzystywana do nagrzewania powietrza nadmuchiwanego do suszarni.  Energia zużyta do procesu termicznej hydrolizy jest ponadto powtórnie wykorzystywana do podgrzewania osadów, wprowadzanych do tego procesu.
Nowa instalacja, która powstawała  od lutego 2016 roku kosztowała 58 milionów złotych. W jej sfinansowaniu pomogły Narodowy i Wojewódzki Fundusz Ochrony Środowiska.. Uruchamianie rozpoczęło się pod koniec ubiegłego roku. Obecnie kończy się proces rozruchu instalacji, doprowadzanej do pełnej sprawności.
28.03.2017