Podium Marcina Dreszera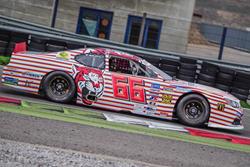 Tarnowianin Maciej Dreszer, jedyny Polak uczestniczący obecnie w serii wyścigów NASCAR dwukrotnie zajął miejsce na podium podczas w wyścigów w Hiszpanii. To najprawdopodobniej pierwszy Polak na podium w historii wyścigów NASCAR. Kolejne wyścigi odbędą się w czerwcu w Wielkiej Brytanii.


Młody tarnowski kierowca Maciej Dreszer, jedyny Polak w europejskiej edycji legendarnych wyścigów NASCAR dwukrotnie stanął na trzecim stopniu podium w obu wyścigach na torze Ricardo Tormo w Walencji rozegranych 8 i 9 kwietnia. Dodatkowo w obu wyścigach inaugurujących NASCAR Wheelen Euro Series 2017 Polak zajął pierwsze miejsce w kategorii Rookie Cup – zawodników do 25 roku życia. - To miało być zapoznanie z torem i ideą wyścigów NASCAR. To przecież mój pierwszy sezon za kółkiem amerykańskiej bestii. Mam już na tyle doświadczenia jako kierowca wyścigowy, aby wiedzieć, że w pierwszym starcie sezonu, w dodatku jadąc zupełnie nowym dla mnie i bardzo egzotycznym, jak na europejskie sporty, samochodem, nie jedzie się na 100 procent – mówi Maciej Dreszer. - Poszło jednak świetnie.
To najprawdopodobniej pierwsze podium w historii NASCAR dla Polaka. Przed laty w tym zawodach brał udział Władysław Surma, ale nie osiągał tak spektakularnych sukcesów. W USA w rankingach NASCAR pojawia się co prawda wiele polskich nazwisk, ale są to Amerykanie polskiego pochodzenia.
Tarnowianin już pierwszego dnia, w sobotę, stanął na trzecim miejscu podium serii Elite 2 oraz wygrał klasyfikację w kategorii Rookie Cup, zawodników do 25 roku życia. Drugiego dnia sukces powtórzył z mistrzowską precyzją, ponownie stając na trzecim miejscu podium oraz wygrywając w Rookie CUP. - Drugiego dnia wyścigów, zgodnie z zasadami NASCAR, wyrównywania szans zawodników, startowałem z dalszej, siódmej pozycji – mówi Maciej Dreszer. - W trakcie jazdy przebiłem się na trzecie miejsce i spróbowałem sięgnąć po drugie. Zabrakło ułamków sekundy, ale to dopiero sam początek sezonu. Apetyt rośnie w miarę jedzenia.
Europejskie wyścigi NASCAR, stosunkowo mało znane w Polsce, cieszą się ogromnym zainteresowaniem w innych krajach Europy. Są transmitowane przez największe stacje telewizyjne, a każdy z nich zbiera przed telewizorami wielu widzów. Każdy z wyścigów trwa około 30 minut i obejmuje dystans około 70 km. W zawodach wystartuje około 40 samochodów wyścigowych. Zawodnicy w trakcie rywalizacji nie zmieniają opon ani nie tankują samochodów. Z pit-stopu korzystają tylko wtedy, gdy auto ma poważną awarię.
Kolejne rundy wyścigowe odbędą się 10-11 czerwca w Wielkiej Brytanii, 1-2 lipca w Niemczech, 15-16 lipca w Holandii – na jedynym w Europie owalnym torze, takim jak wiele w USA. W weekend 16-17 września odbędzie się wyścig półfinałowy we Włoszech, a na zakończenie europejskiej serii – finał w Belgii 14-15 października.
11.04.2017