Patryk Kosiniak wystartuje w Le Mans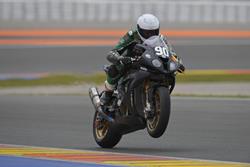 Tarnowianin, Patryk Kosiniak, wystartuje w kultowym, 24-godzinnym wyścigu motocyklowym w Le Mans w składzie trzyosobowego zespołu LRP Poland. Zawody odbędą się 15 i 16 kwietnia. Patryk Kosiniak to m.in. ubiegłoroczny zwycięzca międzynarodowego pucharu Yamahy, który w tym roku startuje na BMW.


Zespół LRP Poland wystawi wyjątkowy skład na 24-godzinny wyścig motocyklowych mistrzostw świata FIM EWC w Le Mans.
Do Bartłomieja Lewandowskiego, jeżdżącego menedżera jedynego polskiego zespołu w pełnym cyklu FIM EWC, dołączył w tym roku utytułowany Słowak Jaro Cerny. W kultowym wyścigu w Le Mans duet LRP Poland wzmocni jednak także trzeci zawodnik. Będzie nim doświadczony Patryk Kosiniak, ubiegłoroczny zwycięzca międzynarodowego pucharu Yamahy R6, który w tym roku wystartuje na BMW w pełnym cyklu mistrzostw Niemiec IDM Superbike w barwach ekipy Wilbers Racing Team. Tarnowianin ma już za sobą udane, wspólne testy z zespołem LRP Poland.
24-godzinny wyścig w Le Mans, pierwsza runda tegorocznych mistrzostw świata FIM EWC, odbędzie się w dniach 15-16 kwietnia. - Jestem bardzo podekscytowany startem w barwach jedynego polskiego zespołu w stawce, w legendarnym wyścigu w Le Mans i w mistrzostwach świata – mówi Patryk Kosiniak. - Jazda w mistrzostwach świata od zawsze była moim celem, ale jeszcze kilkanaście dni temu nie spodziewałem się, że mój debiut w nich nastąpi już w tym sezonie. Dostałem jednak propozycję nie od odrzucenia, a mój zespół bez wahania wyraził zgodę na mój start w barwach innej ekipy BMW. To będzie dla mnie przede wszystkim nowe i cenne doświadczenie, a także mnóstwo dodatkowego czasu spędzonego na BMW w specyfikacji bardzo zbliżonej do tej, którą znam z IDM Superbike. Mamy za sobą udane testy we Francji. Co prawda znalezienie kompromisu i dostosowanie ustawień motocykla do wymagań trzech zawodników o zupełnie innych stylach jazdy nie jest łatwe, ale już podczas testów poszliśmy w dobrym kierunku. Obiekt w Le Mans jest bardzo wymagający, a do tego nie posiada tylko jednej optymalnej linii przejazdu. Nigdy nie wiadomo, jaką linią pojedzie zawodnik przed nami, dlatego trzeba bardzo uważać przy wyprzedzaniu. Tym bardziej, że na torze będzie jednocześnie aż 60 motocykli, co także jest dla mnie całkowitą nowością. Nigdy nie startowałem w wyścigu długodystansowym, ale kondycyjnie jestem na to przygotowany. Rywalizacja nie będzie łatwa, ale liczę na udany weekend.


11.04.2017