Mecz Bruk-Betu w wielkanocny poniedziałek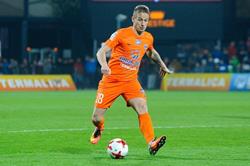 W poniedziałek, 17 kwietnia o godzinie 15.30 w Niecieczy rozegrany zostanie mecz 29 kolejki LOTTO Ekstraklasy. Rywalem Bruk-Betu Termaliki będzie Piast Gliwice. Niecieczanie wciąż jeszcze walczą o miejsce w pierwszej ósemce na zakończenie rundy zasadniczej.
Piast Gliwice będzie kolejnym rywalem Bruk-Betu Termaliki Nieciecza w meczu 29 kolejki LOTTO Ekstraklasy. Spotkanie rozegrane zostanie w Niecieczy 17 kwietnia o godzinie 15.30.
Zespół z Gliwic to wciąż aktualny wicemistrz Polski, ale już wiadomo, że w tym roku nie obroni tego osiągnięcia. Gliwiczanie po 28 meczach zajmują w tabeli 12 lokatę z 30 punktami.
Niecieczanie  są na 10 miejscu w lidze z 36 punktami i wciąż walczą o miejsce w pierwszej ósemce po rundzie zasadniczej.
W obecnym składzie zespołu z Niececzy znajdują się trzej piłkarze, którzy w przeszłości grali w zespole Piasta. To Wojciech Kędziora, Kornel Osyra i Dariusz Trela.
- Sytuacja, w której się znaleźliśmy nie jest komfortowa. Sami ją skomplikowaliśmy. Trzeba jak najszybciej z niej wyjść i ponownie wskoczyć do pierwszej ósemki. Pierwszy raz w tym sezonie znajdujemy się poza nią. To nic fajnego. Mecz w Lany Poniedziałek, to dla kibiców, ale i dla nas nowe doświadczenie, oby było radosne – mówi przed spotkaniem Vlastimir Jovanovic, pomocnik zespołu z Niecieczy. - Ostatni mecz pokazał, że możemy dobrze grać. Szkoda, że nie przełożyło się to na wygraną. Nie załamujemy się tym. Przed nami nowe wyzwanie. Musimy do niego podejść odpowiednio nastawieni psychicznie. Jestem przekonany, że na murawie damy z siebie więcej niż sto procent.
13.04.2017