Szwedzkie autobusy w Tarnowie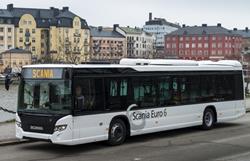 Firma Scania wygrała przetarg na dostawę pięciu autobusów dla Miejskiego Przedsiębiorstwa Komunikacyjnego w Tarnowie. Koszt zakupu to około pięć milionów złotych. Pieniądze pochodzą z własnych środków MPK w Tarnowie.
Skandynawska firma Scania wygrała przetarg na dostawę pięciu autobusów, ogłoszony przez Miejskie Przedsiębiorstwo Komunikacyjne. - Pojazdy będą komfortowe, nowoczesne, wyposażone ekologiczne silniki, klimatyzowane, ładne i trwałe - podkreśla Roman Ciepiela, prezydent Tarnowa.
Autobusy Citywide o długości 12 metrów będą w pełni przystosowane dla potrzeb osób niepełnosprawnych oraz wyposażone we wszelkie elektroniczne udogodnienia dla pasażerów - głosowe i graficzne systemy wewnętrznej i zewnętrznej informacji pasażerskiej oraz nowoczesne kasowniki dotykowe. Nie zabraknie też ładowarek USB. - Producent ma 180 dni na dostarczenie autobusów do Tarnowa – mówi Jerzy Wiatr, prezes zarządu MPK. Pojazdy przyczynią się do poprawy jakości powietrza, dzięki silnikom diesla, spełniającym najwyższą normę ekologiczną EURO 6, a dzięki automatycznemu systemowi detekcji i gaszenia pożarów, wykluczona zostanie możliwość takiego zdarzenia. Specjalny system ogrzewania zapewni pasażerom autobusu ciepło, także w czasie największych mrozów, a latem działać będzie wydajna klimatyzacja. Nowością są sterowniki sygnalizacji świetlnej na skrzyżowaniach, które zapewniają pojazdom komunikacji miejskiej pierwszeństwo przejazdu, kolejną nowością - ekrany LCD, na których prezentowana jest trasa przejazdu oraz mapka miasta z lokalizacją autobusu, co będzie szczególnie przydatne dla osób rzadko korzystających z komunikacji miejskiej i dla turystów. Scania AB to szwedzkie przedsiębiorstwo produkujące samochody ciężarowe, ciągniki siodłowe, autobusy oraz silniki wysokoprężne dla pojazdów ciężarowych, morskich oraz różnych zastosowań przemysłowych, założone w 1891 roku w Malmö. Należy do trzech autobusowych marek "premium", obok firm  Mercedes-Benz oraz MAN. Scania jako jedyny producent wykonuje całą konstrukcję nadwozia z aluminium, zaś podwozie ze szwedzkiej stali o podwyższonej odporności, co zapewnia jej autobusom "szwedzką trwałość". Koncern ma fabryki ciężarówek i silników w kilku krajach świata, natomiast wszystkie autobusy miejskie produkuje w Polsce, w Słupsku, gdzie pojazdy powstają od podstaw, a silniki do nich dostarczane są ze Szwecji.
Za pięć pojazdów MPK zapłaci z własnych środków około 4,7 miliona złotych. Autobusy będą stanowiły wkład własny MPK do projektu, dofinansowanego ze środków RPO 2014-2020. Wniosek jest w fazie oceny, a zakończenie konkursu planowane jest na koniec czerwca 2017. W ramach tego wniosku spółka zamierza zakupić łącznie 40 pojazdów.
15.04.2017