Porażka dwoma punktami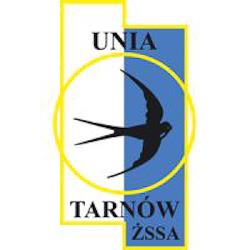 To raczej przykra niespodzianka. Żużlowcy Grupy Azoty Unii Tarnów przegrali w Krakowie z Arge Speedway Wandą 44:46. Tarnowianie utrzymali prowadzenie w tabeli z dwoma punktami zdobytymi w dwóch spotkaniach, a 22 kwietnia rywalem drużyny z Mościc będzie SC Lokomotiv Daugavpils.
Nie takiego rozstrzygnięcia spodziewali się w Krakowie kibice Grupy Azoty Unii Tarnów. Arge Speedway Wanda Kraków pokonała zespół z Tarnowa 46:44.
Mecz był emocjonujący i zacięty, a rozstrzygnięcie zapadło w ostatnim biegu. Początek spotkania nie zapowiadał takiego rozstrzygnięcia. Po sześciu wyścigach tarnowianie prowadzili 20:16, po dziewięciu 29:25. Od tego momentu gospodarze zaczęli jednak odrabianie strat i po dwóch kolejnych biegach to oni prowadzili 34:32.
Po podwójnej wygrane tarnowian w wyścigu 14 wynik meczu brzmiał 42:42, a o końcowym wyniku zadecydował ostatni wyścig. Po wyjściu z pierwszego łuku na czoło stawki wysforował się Peter Ljung, a za jego plecami szalał Mateusz Szczepaniak. Na nieszczęście tarnowian jego atak na ostatnim łuku przyniósł efekt dający mu trzy punkty i końcowy triumf krakowian.
Drużyna z Tarnowa najbliższy mecz rozegra 22 kwietnia, a rywalem tarnowian będzie SC Lokomotiv Daugavpils. Początek spotkania o godzinie 15.00 na torze w Mościcach.
Arge Wanda Kraków – Grupa Azoty Unia Tarnów 46:44
Punkty dla Unii: Ljung 9 (3, 2, 1, 1, 2), Mroczka 6 (0, 0, 2, 2, 2), Czaja 8 (3, 3, 2, w, 0), Michelsen 9 (1, 1, 3, 1, 3), Bjerre 5 (3, 1, 1, 0), Rolnicki 6 (3, 0, 3), Nowiński 1 (u, 1, 0)
Bieg po biegu:
1. Ljung, Szczepaniak, Nicholls, Mroczka 3:3
2. Rolnicki, Szlauderbach, Borczuch, Nowiński (u) 3:3 (6:6)
3. Czaja, Klindt, Michelsen, Koza 2:4 (8:10)
4. Bjerre, Hougaard, Nowiński, Borczuch (u) 2:4 (10:14)
5. Koza, Ljung, Klindt, Mroczka 4:2 (14:16)
6. Czaja, Hougaard, Michelsen, Szlauderbach (d) 2:4 (16:20)
7. Szczepaniak, Nicholls, Bjerre, Rolnicki 5:1 (21:21)
8. Hougaard, Mroczka, Ljung, Borczuch 3:3 (24:24)
9. Michelsen, Czaja, Szczepaniak, Nicholls 1:5 (25:29)
10. Koza, Klindt, Bjerre, Nowiński 5:1 (30:30)
11. Nicholls, Mroczka, Hougaard, Czaja (w) 4:2 (34:32)
12. Rolnicki, Klindt, Ljung, Szlauderbach 2:4 (36:36)
13. Szczepaniak, Koza, Michelsen, Bjerre 5:1 (41:37)
14. Michelsen, Mroczka, Hougaard, Klindt 1:5 (42:42)
15. Szczepaniak, Ljung, Koza, Czaja 4:2 (46:44)
18.04.2017