Poza stereotypem – wybór Seniorów Roku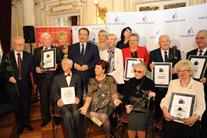 Po raz 11 Regionalny Ośrodek Polityki Społecznej w Krakowie organizuje plebiscyt "Poza Stereotypem – Senior Roku". Na zgłoszenia kandydatów organizatorzy czekają do 5 maja.
Regionalny Ośrodek Polityki Społecznej w Krakowie, instytucja Województwa Małopolskiego – po raz kolejny zachęca do zgłaszania kandydatów do tytułu Seniora Roku. To już 11 edycja plebiscytu "Poza Stereotypem – Senior Roku", który od lat cieszy się ogromnym powodzeniem i wyłonił wśród Małopolan wielu zacnych laureatów. - Jest wielu seniorów, którzy realizują swoje pasje w ukryciu, piszą poezję, malują. Plebiscyt organizowany przez ROPS w Krakowie ma na celu dotarcie do nich i zaprezentowanie szerszej publiczności - mówi wicemarszałek Wojciech Kozak, odpowiedzialny w zarządzie województwa za obszar zdrowia i polityki społecznej. - W ten sposób obalamy również stereotyp dotyczący seniorów. Pokazujemy dojrzałość jako atut, a ten moment życia jako czas, w którym można dzielić się swoim życiowym doświadczeniem. Jednocześnie jest to czas na realizację swoich pasji i zarażanie nimi innych.
Podobnie jak w poprzednich edycjach, organizatorzy czekają na zgłoszenia aktywnych, młodych duchem seniorów po "sześćdziesiątce", mieszkańców województwa małopolskiego, którzy mimo wieku emerytalnego realizują swoje pasje, rozwijają skrywane talenty oraz spełniają swoje marzenia.
Wypełnioną kartę zgłoszenia kandydata, rekomendacje i oświadczenie należy przesłać do siedziby ROPS przy ulicy Piastowskiej 32 w terminie do 5 maja. Decyduje data wpływu do organizatora plebiscytu.
Więcej informacji można uzyskać na stronie internetowej Regionalnego Ośrodka Polityki Społecznej w Krakowie oraz pod numerem telefonu 12 422 06 36 wew. 21.
18.04.2017