"Wesele" – premiera widowiska "Świerczkowiaków"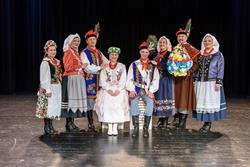 Zespół Pieśni i Tańca "Świerczkowiacy" zaprasza na "Wesele". Będzie to premiera widowiska opartego na tradycjach weselnych regionu Krakowiaków wschodnich. Widowisko zaprezentowane zostanie 23 kwietnia o godzinie 18.00 na scenie Centrum Sztuki Mościce. Bilety kosztują 15 i 20 złotych.
Na widowisko oparte na tradycji zwyczaju weselnego z regionu Krakowa wschodniego zapraszają 23 kwietnia o godzinie 18.00 Centrum Sztuki Mościce oraz Zespół Pieśni i Tańca "Świerczkowiacy".
Informacje na podstawie których powstał program pochodzą z publikacji Oskara Kolberga oraz z opisów etnograficznych, muzycznych a także przekazów ustnych. Dramaturgia zwyczaju pokazywać będzie poszczególne etapy i sceny weselne: powitanie, życzenia, poczęstunek, oczepiny, obdarowywanie, zabawę. Wszystko dziać się będzie w domu weselnym Panny Młodej. - Prosimy przygotować się na współudział w weselu. Będzie tradycyjnie i gościnnie pod każdym względem, a to jak potoczą się weselne losy zależeć będzie od Państwa – zapraszają realizatorzy widowiska.
W samym weselnym obrazku udział wezmą członkowie Zespołu Pieśni i Tańca "Świerczkowiacy" oraz prawdziwa weselna kapela. Akcja wesela toczy się w tradycyjnej izbie. Wezmą w nim udział charakterystyczne postaci, które w tradycji pełniły określone funkcje: młodzi, drużba, starosta, starościny, rodzice młodych, chrzestni, rodzeństwo, rodzina daleka i bliska oraz goście.
Kostiumy zostały odtworzone na modłę starych strojów ludowych, na podstawie zachowanej literatury i eksponatów - oryginalnych ubiorów, zgromadzonych w Muzeum Etnograficznym w Tarnowie. W widowisku zostaną użyte specyficzne rekwizyty weselne: dzieża - symbolizująca płodność, rózga weselna Starosty - symbol zdrowia i dostatku, przetak, kołacz, chleb i wiele innych.
Autorką scenariusza, reżyserką i choreografką widowiska jest Wiesława Hazuka, autorem opracowania muzycznego Andrzej Radzik.
Bilety normalne kosztują 20 złotych, ulgowe są o pięć złotych tańsze. Sprzedaż prowadzi kasa CSM, istnieje też możliwość zakupu biletów on-line.
Fot. Przemysław Sroka
20.04.2017