Grupa Azoty i TAURON wspólnie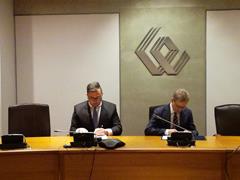 Budowa instalacji zgazowania węgla do wytwarzania produktów chemicznych to cel projektu, który wspólnie realizować będą TAURON i Grupa Azoty. List intencyjny w tej sprawie został podpisany.
Zarządy TAURON i Grupy Azoty podpisały na parkiecie Giełdy Papierów Wartościowych w Warszawie list intencyjny określający ogólne zasady rozpoczęcia współpracy nad projektem zgazowania węgla. Strony uznały, że obecne zużycie gazu ziemnego w przemyśle nawozów azotowych można częściowo zastąpić gazem syntezowym, otrzymanym w wyniku zgazowania węgla. Stwarza to nowe perspektywy dla przemysłu wydobywczego, zwiększając bezpieczeństwo energetyczne kraju poprzez rozwój niskoemisyjnej technologii. - Budowa instalacji zgazowania węgla jest przedsięwzięciem, które w pełni wpisuje się w to, co rozumiemy jako Czyste Technologie Węglowe. Wspólnie z Grupą Azoty pokazujemy, że krajowy węgiel może być bazą do budowania nowego biznesu i rozszerzania kompetencji obu stron. Liczymy, że pokonanie barier, które zawsze towarzyszą wdrażaniu innowacyjnych projektów, otworzy drogę do szerokiego wykorzystania węgla kamiennego w nowych zastosowaniach - mówi Filip Grzegorczyk, prezes zarządu TAURON Polska Energia. Koncepcja zakłada wykorzystanie krajowego węgla kamiennego wydobywanego przez TAURON do wytwarzania przez Grupę Azoty m.in. produktów chemicznych, takich jak metanol czy amoniak. Podpisanym dokumentem Grupa Azoty inicjuje wejście w nowy segment produkcji chemikaliów, dotychczas w całości importowanych (metanol) lub produkowanych na bazie sprowadzanego gazu ziemnego (amoniak). - Inwestycja, którą dzisiaj inicjujemy wspólnie z Grupą TAURON będzie miała szeroki i pozytywny wymiar dla całej gospodarki. Bazując na sprawdzonych światowych technologiach stawiamy na wydłużenie łańcucha wartości i oparcie w kilkuletnim horyzoncie czasowym znaczącej części produkcji Grupy Azoty na krajowym gazie syntezowym otrzymywanym ze zgazowania węgla – powiedział Wojciech Wardacki, prezes zarządu Grupy Azoty S.A.
Podpisany list intencyjny określa ogólne ramy współpracy pomiędzy Grupą Azoty
a Tauronem, a spółki wyraziły również wolę podpisania dalszych umów, w tym umów związanych z utworzeniem wspólnej spółki celowej. Szacowana wartość projektu wynosić będzie od 400 do 600 mln euro, w zależności od wybranej wersji technologicznej. Miejscem planowanej inwestycji będzie Kędzierzyn Koźle.
Zgazowanie węgla na potrzeby chemii jest technologią stosowaną głównie w rejonach o ograniczonym bądź kosztownym dostępie do gazu ziemnego. Gaz syntezowy pozyskiwany z węgla stanowi surowiec do produkcji około 30 procent światowego wolumenu metanolu. Budowa instalacji zgazowania węgla otwiera przed spółkami perspektywę nowej inwestycji oraz rozwoju w innowacyjnym obszarze technologicznym.
20.04.2017