Uczniowie zaprosili ptaki do Tarnowa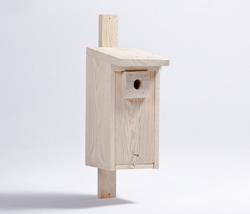 W Tarnowie zakończono drugą edycję konkursu "Zaprośmy ptaki do Tarnowa". Jego uczestnikami byli przedszkolacy i uczniowie tarnowskich szkół. Efektem konkursu jest 80 budek lęgowych, które zamontowano już na terenie miasta.
Na terenie Tarnowa zamontowano 80 budek lęgowych. To efekt konkursu "Zaprośmy ptaki do Tarnowa", w którym wzięło udział 20 placówek oświatowych.
Najlepsze konstrukcje należały do uczniów ze Szkoły Podstawowej nr 17, Zespołu Szkół Ekonomiczno-Ogrodniczych, a także najmłodszych tarnowian z Przedszkola nr 34.
Konkurs rozstrzygano w trzech kategoriach: przedszkola, szkoły podstawowe i szkoły ponadgimnazjalne. Uczestnicy musieli nie tylko zbudować budki lęgowe, ale także przedstawić krok po kroku, jak konstruowano domki dla ptaków, wzbogacając opis dokumentacją fotograficzną.
Gotowe budki zawisły na drzewach w ogrodach przedszkolnych, przyszkolnych, a także w parkach na i terenach zielonych miasta. Jak relacjonują uczestnicy konkursu, pierwsi mieszkańcy pojawili się już w nowych domkach.
Była to już druga edycja konkursu. Jego organizatorem był Wydział Ochrony Środowiska UMT wraz z Zespołem Parków Krajobrazowych Województwa Małopolskiego. Podsumowanie konkursu wraz z wręczeniem nagród i dyplomów odbędzie się w czerwcu w Parku Strzeleckim podczas obchodów światowego Dnia Ochrony Środowiska.
20.04.2017