Sztuka układania życia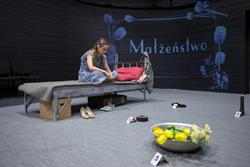 Ta historia wstrząsnęła niegdyś Tarnowem. Napisana piórem byłego policjanta, wstrząsa na nowo, choć to jedynie wariacje literackie na kanwie tamtej. Bo opowiada o tym, że żadna tragedia, żadna zbrodnia, a może zwłaszcza zbrodnia, nie są czarno-białe. I że każde zabójstwo, nawet to najtrudniejsze do zrozumienia, kryje jakąś motywację.
Zła kobieta kocha kwiaty. Ale na ścięte kwiaty, nawet te ułożone w najpiękniejszy bukiet, wyrok już został wydany. Tak, jak na złą kobietę.
"Ikebana", najnowsza premiera tarnowskiego teatru, to zwykła opowieść autorstwa Marcina Skóry. Opowieść złej kobiety o samej sobie. Opowieść niezwykle prawdziwa, bo przecież to wydarzyło się kiedyś tu, w tym mieście. Wszystko jest znajome. Nazwy miejsc - Tarnów, Lwowska, imiona - Elwira, Ania, Jerzy, Sylwester, Marysia. Ta swojskość i bliskość miejsc sprawia, że czas nagle się zatrzymuje, widownia znika, a człowiek pozostaje sam na sam z Ewą - złą kobietą i jej opowieścią.
A ona tak po prostu, zwyczajnie, mówi o swoim życiu, od początku naznaczonym śmiercią. Śmiercią matki, siostry, córki. Nawet śmiercią ukochanego psa. O życiu z ojcem, który jej nienawidził, o życiu z mężem, który pozbawił tego, co kochała, o poprawczaku i o nieustannych próbach zaczynania wszystkiego od nowa. I o Elwirze, osobie od której nie mogła i nie chciała się uwolnić, bo tylko Elwira dawała ciepło, zrozumienie i bliskość.
Matylda Baczyńska zmierzyła się z postacią zbrodniarki - dzieciobójczyni. Postacią niejednoznaczną, skomplikowaną, pełną emocji, choć pozornie spokojną i pogodzoną ze swoim losem. Zmierzyła się i wygrała. Wspólna praca jej, dwóch reżyserów – Bohdana Graczyka i Dariusza Starczewskiego, a także Justyny Banasiak, autorki scenografii i kostiumów, zaowocowała nader interesującym spektaklem.
"Ikebana" to prawie dwugodzinny monolog w bardzo skromnej scenografii, chwilami tylko urozmaicony muzyką zespołu Hey w aranżacji Piotra Niedojadły. A jednak, w absolutnej ciszy, słucha się Matyldy - Ewy, wsłuchuje w jej czułość, przekleństwa, monotonię. Z każdą chwilą coraz lepiej poznaje się jej anioły i demony. I ją samą.
"Ikebana" to trudny, głęboki i obciążający psychikę monodram. Aktorka nie ma kiedy odpocząć, nie ma za czym ani za kim się schować. Jest sama, przekazując trudne sprawy i trudne decyzje. Matylda Baczyńska w sposób przejmujący i bezpretensjonalny stworzyła postać kobiety równocześnie zagubionej i hardej, delikatnej i wulgarnej. Kobiety, która kocha bzy i piwonie. Kobiety-matki, której ktoś brutalnie zabija dziecko. Kobiety wreszcie, która sama zabija i którą życie zamyka na kilku metrach więziennej celi.
Cała historia złożona jest z wielu przeżyć, także autora. Marcin Skóra musiał napisać ten tekst. Musiał, bo historia sprzed lat wciąż w nim żyje. W tekście jest szczerość i ból i problemy, które nie zostały rozwiązane tak, jak rozwiązane być powinny. Ale to nie jest próba usprawiedliwienia zabójstwa dziecka. To tylko próba odpowiedzi na pytanie, czy i jak można żyć dalej, gdy straciło się wszystko.
Dorota Filip
01.05.2017