Skutecznie walczymy o dofinansowania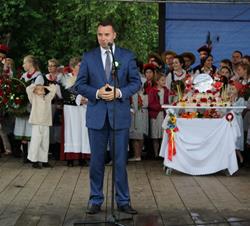 Rozmowa z Dawidem Chrobakiem, Burmistrzem Miasta i Gminy Zakliczyn
Kilka dni temu do Zakliczyna dotarła dobra wiadomość o promesie z Ministra Spraw Wewnętrznych i Administracji Mariusza Błaszczaka. Na jaką kwotę opiewa i co uda się zrobić dzięki temu ministerialnemu wsparciu?
930 tysięcy złotych – tyle udało nam się pozyskać ze specjalnego funduszu dedykowanego na likwidację szkód powstałych w wyniku klęsk żywiołowych. Dzięki temu wsparciu uda nam się wyremontować dwa odcinki dróg. W sumie położymy blisko trzy kilometry nowego asfaltu. Nową nawierzchnię otrzyma droga ,,Biała Góra" Kończyska - Słona (1,2 km) oraz droga w Słonej ,,Czarny Potok - Zbójnik" (1,6 km). Obie trasy są drogami szutrowymi, ale dzięki pozyskanym pieniądzom znacznie podniosą swoją jakość. Obie drogi są bardzo ważne dla mieszkańców. Szczególnie istotne znaczenie ma droga na ,,Zbójnik", która stanowi połączenie gminy Zakliczyn z gminą Ciężkowice. Jest to również alternatywna trasa wobec drogi powiatowej łączącej obie gminy, co z punktu widzenia dostępności i bezpieczeństwa jest niezwykle ważne. Otrzymana promesa to już druga promesa w tym roku, bowiem w maju otrzymaliśmy dofinansowanie na kwotę 160 tys. zł na remont dróg w Olszowej i w Kończyskach.
W gminie Zakliczyn mamy już tegoroczny szczyt inwestycyjny?
Rzeczywiście pogoda sprzyja inwestycjom, dlatego staramy się jak najlepiej wykorzystać ten czas. Rozpoczynamy właśnie prace drogowe praktycznie we wszystkich miejscowościach naszej gminy. Prace są finansowane z funduszu sołeckiego i są odpowiedzią na prośby mieszkańców.  Mówimy tutaj o ponad pięciu kilometrach dróg, które znacznie poprawią zarówno poziom bezpieczeństwa, jak również komfort użytkowania. Obecnie trwają także prace związane z budową nowych chodników. Nowy ciąg dla pieszych przy drodze wojewódzkiej nr 980 połączy Faściszową i Kończyska na odcinku 700 metrów. Koszt zadania to kwota ponad 700 tysięcy zł, z czego 380 tys zł to dofinansowanie z budżetu województwa. W ramach tego zadania powstanie również ścieżka rowerowa. Z kolei przy drodze wojewódzkiej nr 975 powstaje chodnik, który połączy Paleśnicę z Borową. 350 mb za kwotę 320 tys. zł, z czego 165 tys zł to dofinansowanie z budżetu województwa. Natomiast w Stróżach przy drodze powiatowej wspólnie ze Starostwem Powiatowym w Tarnowie budujemy chodnik wraz ze ścieżką rowerową (ponad 300 mb za kwotę 200 tys zł). Z tego miejsca dziękuję staroście Romanowi Łucarzowi za wsparcie, ponieważ zadanie w połowie finansowane jest ze środków z budżetu powiatu. Liczę, że wspomniane chodniki uda nam się wykonać do końca wakacji.
Gmina Zakliczyn pozyskała również sporą dotację na modernizację ratuszowego wnętrza. Kiedy ruszą prace?
Nim budowlańcy pojawią się w ratuszowych murach, najpierw musimy głosić przetarg, co stanie się najprawdopodobniej już za kilka dni. Łączna wartość projektu na przebudowę sali w budynku Ratusza wraz z rozbudową instalacji elektrycznej i budową instalacji klimatyzacyjnej wynosi 645 tys. zł. Warto zaznaczyć, że 354 tys zł, czyli 54 procent,  będzie zrefundowane przez Unię Europejską. W ubiegłym roku w ramach tego projektu wykonano klimatyzację sali ratuszowej za blisko 95 tys. zł. Sala w Ratuszu w Zakliczynie jest salą wykorzystywaną do większości wydarzeń organizowanych przez samorząd, mieszkańców, organizacje pozarządowe, szkoły, przedsiębiorców i po blisko 20 latach wymagała gruntownej przebudowy. Dzięki środkom UE podniesiony zostanie komfort korzystania z sali oraz jej estetyka. W ramach zadania wykonane zostanie wiele prac m.in. wymiana instalacji elektrycznej, wykonanie systemu oświetlenia scenicznego, montaż systemu automatyki LCN (sterowanie oświetleniem, roletami oraz kurtyną), wymiana i renowacja drzwi, wykonanie konstrukcji nowej sceny i schodów, montaż tablicy informacyjnej.
Co z rewitalizacją Rynku? Czy ta inwestycja jest zagrożona z racji niewielkiej kwoty, którą wygospodarował samorząd województwa?
Zobaczymy jesienią. Nasz wniosek jest dobrze przygotowany i opiewa na ponad 7,3 mln złotych, a całość inwestycji zamknie się kwotą 9,8 mln złotych. Nie ma co ukrywać, że w skali całego województwa środków nie ma za wiele. Zostało złożonych blisko 200 projektów wartych ponad 600 milionów złotych. To 508% alokacji przewidzianej w ramach niniejszego konkursu. Natomiast w naszym województwie przeznaczonych do rozdysponowania na to działanie jest zaledwie 118 milionów złotych.
Co jeśli znajdziecie się poza listą dofinansowanych projektów?
Oby tak się nie stało, ale szukamy alternatywnych źródeł dotacji. Mam tu chociażby na myśli Ministerstwo Kultury i Dziedzictwa Narodowego. Rynek w Zakliczynie wpisany jest do rejestru zabytków. Być może zostaną uruchomione rządowe programy, które pozwolą nam pozyskać z tego źródła pieniądze.
Słyszałem też, że ma Pan dobre informacje dla piłkarzy z Paleśnicy.
Nawet bardzo dobre. Z Ministerstwa Sportu i Turystyki otrzymaliśmy dotację w wysokości 250 tysięcy złotych na stworzenie zaplecza sportowego przy stadionie w Paleśnicy. W tym miejscu należą się duże słowa uznania dla posłów Michała Wojtkiewicza, Wiesława Krajewskiego oraz Jarosława Szlachetki, którzy lobbowali i otwierali nam ministerialne drzwi. To ważna inwestycja, gdyż poza zapleczem dla klubu, na parterze powstanie ogólnodostępna świetlica, na którą budowę złożyliśmy wniosek w ramach środków unijnych PROW 2014 – 20  będących w dyspozycji LGD Dunajec - Biała.
Od blisko miesiąca Zakliczyn jest miastem papieskim. Co szczególnie utkwiło burmistrzowi w pamięci z uroczystości, które miały miejsce na zakliczyńskim Rynku?
To był historyczny moment w dziejach naszego miasta! To dla mnie ogromny zaszczyt być burmistrzem samorządu, którego patronem jest święty Jan Paweł II. W mojej pamięci na zawsze zostanie poczucie ogromnej wspólnoty, która w Boże Ciało połączyła nas wszystkich. Akt zawierzenia naszego miasta sprawił, że bicie mojego serca przyspieszyło. Nigdy wcześniej nie czułem takiej wspólnoty jak tego dnia na zakliczyńskim Rynku. Niezmiernie cieszę się, że było mi dane uczestniczyć w tak wspaniałym wydarzeniu. Papież jest dla nas wzorem do naśladowania, autorytetem, skarbnicą mądrości, a teraz stał się Patronem naszego miasta.
Za nami Biesiada Rycerska w Melsztynie, co jeszcze przygotowaliście w ramach gminnej oferty kulturalnej?
Tych wydarzeń rzeczywiście jest sporo. Tak naprawdę co weekend coś się u nas dzieje. W te wakacje mocno postawiliśmy na sportową rywalizację. Na wstępie rywalizowali rycerze, 8 i 9 lipca odbył się Międzynarodowy Festiwal Kultury Regionów w Gwoźdźcu z okazji uroczystości dwudziestolecia Zespołu Folklorystycznego "Gwoździec". Obok występów zespołów folklorystycznych, udział wzięli zagraniczni goście z węgierskiego Jászfényszaru oraz ze Stanisławowa. Całość uświetnił koncert zespołu ,,Krywań". Teraz przyjdzie czas na walkę o siatkarski Puchar Burmistrza na orliku w Paleśnicy, tydzień później odbędzie się turniej piłkarski. Szczególnie ciekawie zapowiada się natomiast górski rajd rowerowy, który odbędzie się 22 lipca. Pasjonaci morderczej rywalizacji na dwóch kółkach będą mieć nie lada zadanie, otóż trasa wiedzie spod klasztoru w Zakliczynie na szczyt Jamnej. W ramach tej imprezy nie zapominamy także o rodzinach, które również będą mogły spędzić czas na rowerze na specjalnie przygotowanych do tego familijnych trasach. 6 sierpnia o godz. 14.00 rozpocznie się IV Zakliczyński Triathlon Turystyczny uświetniający 73. rocznicę wybuchu Powstania Warszawskiego. Trasa rowerowa będzie przebiegać z Zakliczyna do Piaski Drużków, trasa kajakowa: Piaski Drużków – Zakliczyn (most), trasa biegowa: Zakliczyn (prawy brzeg Dunajca do Rynku). Natomiast już teraz zapraszam wszystkich na dożynki, które w tym roku odbędą się 13 sierpnia w Stróżach. Publiczności zaprezentuje się kilkanaście grup wieńcowych, będzie wiele tradycji, występów folklorystycznych, regionalnych potraw, a o świetne humory nas wszystkich zadba gwiazda – Kabaret z Kopydłowa. 15 sierpnia odbędzie się na Jamnej odpust oraz Święto Pojednania. Na finał okresu wakacyjnego zapraszamy na Święto Fasoli, które odbędzie się 2 – 3 września na kompleksie sportowo – rekreacyjnym Kamieniec w Zakliczynie.
Czy był Pan w Warszawie podczas przemówienia Donalda Trumpa ?
Widzę, że mocno śledzi pan media społecznościowe (śmiech-przyp.red.). Rzeczywiście byłem w stolicy, kiedy w Polsce gościł prezydent Stanów Zjednoczonych. Byłem zaskoczony tak olbrzymim zainteresowaniem i przede wszystkim ciepłym przyjęciem najważniejszego światowego przywódcy. Pozytywna atmosfera udzieliła się wszystkim, wizyta była świetnie przygotowana, ponieważ, w różnych miejscach były zlokalizowane telebimy i mogliśmy komfortowo przysłuchiwać się wystąpieniu Donalda Trumpa. I tutaj jestem bardzo miło zaskoczony słowami, które padły z ust prezydenta USA. To było bezprecedensowe wydarzenie w historii, potwierdziliśmy, że jesteśmy wielkim krajem, a nasza siła cały czas rośnie. Mamy swój potencjał, siła narodu jest ogromna i jak powiedział prezydent ,,Polaków nie dało się złamać!". Walczymy o interes kraju, walczymy o Polskę w różnych aspektach. To właśnie zostało docenione przez naszego największego sojusznika.
Dziękuję za rozmowę
11.07.2017