Koniec dyżurów w przychodniach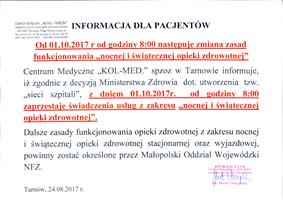 Przygotowana przez ministra zdrowia  reforma sieci szpitali dużo zmienia w finansowaniu nocnej i świątecznej opieki zdrowotnej. Do tej pory opiekę taką mogły zapewniać przychodnie i  ośrodki zdrowia. Od 1 października mają się tym zająć wyłącznie szpitale zakwalifikowane do sieci. Oznacza to, że w godzinach wieczornych, nocnych i w święta lekarskiej pomocy szukać będzie można tylko w jednym z dwóch tarnowskich szpitali. Nie wiadomo jednak, jak to będzie wyglądało w praktyce i czy wyjdzie pacjentom na zdrowie.
Na skutek reformy sieci szpitali, trzy tarnowskie przychodnie przestaną od 1 października prowadzić całodobową opiekę medyczną. Zgodnie z ustawą, pomocy lekarskiej w godzinach wieczornych, nocnych i w święta będą udzielały wyłącznie oba tarnowskie szpitale. Nocna i świąteczna opieka medyczna udzielana jest pacjentom w przypadku nagłego zachorowania lub nagłego pogorszenia stanu zdrowia, w dni powszednie po godzinie 18.00 oraz w soboty, niedziele i w święta. W Tarnowie do tej pory pomoc taką świadczyło Mościckie Centrum Medyczne Sp. z o. o., Centrum Medyczne KOL-MED SPZOZ i Miejska Przychodnia Lekarska Nr IV NZOZ Sp. z o. o. Samo tylko Mościckie Centrum Medyczne w ciągu ubiegłego roku udzieliło ponad 13 tysięcy świadczeń, nie tylko mieszkańcom Tarnowa, ale również Wierzchosławic i Radłowa. W ciągu pierwszych pięciu miesięcy tego roku, takich świadczeń było  już ponad sześć tysięcy. Dlatego też prezydent Roman Ciepiela zwrócił się do Narodowego Funduszu Zdrowia z prośbą o utrzymanie całodobowej pomocy lekarskiej w MCM. - Osiedla Mościce oraz Koszyce należą do grupy tarnowskich osiedli o najwyższym udziale seniorów w strukturze zamieszkującej ludności. Jednocześnie są to osiedla najbardziej oddalone od obu szpitali - podkreślił prezydent w piśmie przesłanym do dyrekcji Małopolskiego Oddziału Wojewódzkiego Narodowego Funduszu Zdrowia w Krakowie. Prezydent argumentował również, że utrzymanie nocnej i świątecznej opieki medycznej w MCM pozwoli na równomierne pokrycie Tarnowa dostępem do tych świadczeń i umożliwi zachowanie na niepogorszonym poziomie stanu bezpieczeństwa zdrowotnego mieszkańców miasta i pobliskich gmin. NFZ odmówił, powołując się na zapisy ustawy. Z pomocy medycznej w nocy i w święta korzystać więc będzie można tylko w szpitalach, gdzie ma ona być oddzielona od Szpitalnego Oddziału Ratunkowego. Na SOR kierowane będą tylko pilne  przypadki. Zgodnie z ustawą, szpitale powinny zadbać o odrębne gabinety i personel medyczny. Jak to będzie wyglądało w praktyce i czy wyjdzie pacjentom na zdrowie, okaże się wkrótce.
06.09.2017