Oby więcej takich ludzi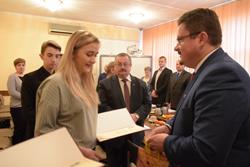 Wracali ze szkoły, gdy w przydrożnym rowie zauważyli leżącego w wodzie, nieprzytomnego mężczyznę. Natychmiast ruszyli z pomocą, dzięki której, jak potwierdzają lekarze z brzeskiego szpitala, udało się uratować nie tylko zdrowie, ale i życie mężczyzny. Wiktoria Kapa i Maciej Świątek – dwójka młodych ludzi z Bielczy, podczas ostatniej sesji Rady Gminy Borzęcin, odebrała z rąk wójta podziękowania, gratulacje i upominki.
Ostatnia sesja Rady Gminy Borzęcin była okazją do złożenia podziękowań i gratulacji oraz uhonorowania dwójki młodych ludzi, którzy bez chwili wahania ruszyli z pomocą ratując życie 48-letniego mieszkańca Bielczy. Mężczyzna wpadł do wypełnionego wodą przydrożnego rowu i stracił przytomność.
Wracający ze szkoły Wiktoria Kapa i Maciej Świątek, bez chwili wahania ruszyli z pomocą. W akcję zaangażowała się również przejeżdżająca akurat drogą Anna Choczyńska, sołtys wsi Bielcza, a zarazem wiceprzewodnicząca Rady Gminy Borzęcin. - Przejeżdżając drogą około godziny 16.20 zauważyłam, że na jezdni leży plecak, a w rowie stoi Maciej Świątek. W zasadzie minęłam go, zanim zorientowałam się, że coś jest nie tak. Wówczas przystanęłam, odwróciłam się i zauważyłam, że kiwa do mnie ręką żebym zawróciła. Gdy podeszłam, zobaczyłam, że Maciek w rękach trzyma człowieka, któremu głowę wyciągnął z wody, bo sam niewiele więcej mógł zrobić. Na pytanie czy żyje, odpowiedział, że nie wie czy żyje. W tym czasie Wiktoria pobiegła do ludzi po pomoc, aby wyciągnąć mężczyznę z rowu. Natychmiast została wezwana karetka.Ten człowiek nie dawał żadnych oznak życia, miał zalane wodą płuca. Po chwili jednak pojawiły się oznaki życia i odruchy wymiotne - mówi Anna Choczyńska. - Jestem ogromnie dumna, że w mojej wsi mam takich mieszkańców. Mam nadzieję, że będą przykładem dla innych. Serdecznie im dziękuję i gratuluję postawy.
Maciek i Wiktoria na co dzień są uczniami szkół średnich: Maciej pierwszej klasy I Liceum im. Kazimierza Brodzińskiego w Tarnowie, Wiktoria drugiej klasy Zespołu Szkół Logistycznych i Technicznych w Wojniczu. Jak potwierdza brzeski szpital, działania przedmedyczne podjęte przez młodych ludzi, miały zdecydowany wpływ na zdrowie i życie mężczyzny. - Sesja Rady Gminy jest najwłaściwszym miejscem, aby złożyć gratulacje i podziękowania tym, którzy bez chwili wahania podjęli akcję ratowniczą ratując życie drugiego człowieka. To czyn zasługujący na najwyższe uznanie. Wiktoria i Maciej, mimo młodego wieku wykazali się pełną dojrzałością. W chwili nagłego i zaskakującego zdarzenia, potrafili właściwie ocenić sytuację i podjęli na miarę swoich możliwości stosowne działania. Czasami o tym, czy człowiek przeżyje decydują sekundy i tak właśnie było w tym przypadku. To postawa i wzór godny naśladowania. Oby więcej tak wspaniałych młodych ludzi - mówi Janusz Kwaśniak, wójt Borzęcina.
23.12.2017