Przygotowania do Kolędy Misyjnej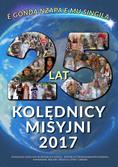 Już po raz 25 mieszkańców diecezji tarnowskiej odwiedzą Kolędnicy Misyjni – grupy dzieci angażujących się w pomoc rówieśnikom w krajach misyjnych. Ofiary zebrane przez Kolędników Misyjnych zostaną przeznaczone przede wszystkim na projekty związane z pracą misjonarzy w Afryce i Ameryce Południowej.
W diecezji tarnowskiej trwają ostatnie przygotowania do Kolędy Misyjnej - będzie to już 25 edycja tego wydarzenia.
Grupy Kolędników Misyjnych tworzą dzieci, które angażują się w pomoc swoim rówieśnikom z krajów misyjnych. W tym przedsięwzięciu wspierają ich katecheci, wychowawcy, rodzice oraz młodzież z parafialnych grup i stowarzyszeń​. Hasło tegorocznego kolędowania wyrażone w języku sango brzmi: "E gonda Nzapa e mu singila!", co znaczy: "Tobie Boże dzięki, chwała!"
Kolędnicy posłani w drugim dniu świąt będą odwiedzać do stycznia domy mieszkańców diecezji tarnowskiej. Opowiedzą w krótkiej inscenizacji o życiu swoich rówieśników na misjach i wręczą mieszkańcom kolędowe pamiątki. - Kolędnicy przychodzą też po to, aby nam przypomnieć, że Chrystus narodził się dla wszystkich, również dla tych, którzy Go nie znają lub znają tylko powierzchownie. Przedsięwzięcie to uczy najmłodszych wrażliwości na potrzeby drugiego człowieka i wyobraźni miłosierdzia – mówi ks. Piotr Boraca z Wydziału Misyjnego Kurii Diecezjalnej w Tarnowie.
Ofiary które uda się zebrać Kolędnikom Misyjnym zostaną przeznaczone na projekty związane z pracą misjonarzy wśród dzieci z Czadu, Republiki Środkowoafrykańskiej, Kamerunu, Republiki Konga, Brazylii, Boliwii oraz Syrii i Libanu w ramach funduszu Papieskiego Dzieła Misyjnego Dzieci.
23.12.2017