"Zwierciadełko powiedz przecie - Szara jesień, szara cera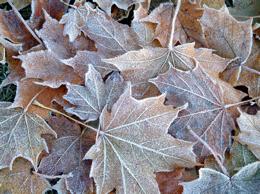 Jesień to nie jest dobra pora dla skóry. Zmiany temperatury, wiatr, deszcz, wilgoć i brak zbawiennego słońca, wszystko to sprawia, że twarz staje się szara, smutna i nijaka. Niekoniecznie jednak sięgać trzeba od razu po warstwę kosmetyków, aby zatuszować tą szarość. Zwłaszcza, że nie każdy jest zwolennikiem codziennego mocnego makijażu.
Przede wszystkim musimy oczyścić ciało i porządnie je wzmocnić. Zatem w pierwszej kolejności należy złuszczyć zrogowaciały naskórek. W gabinetach kosmetycznych do wyboru mnóstwo jest preparatów złuszczających i polecanych przez specjalistów peelingów naturalnych – z cukru trzcinowego, łupin orzecha lub brzoskwini. Ale taki złuszczający zabieg z powodzeniem można wykonać także w domu. Wystarczy po relaksującej kąpieli rozetrzeć gruboziarnisty preparat okrężnymi ruchami, a następnie spłukać go chłodną wodą. W ten sposób nie tylko oczyszczamy ciało, ale też je ujędrniamy. Po takim odblokowaniu porów koniecznie należy wetrzeć w ciało nawilżający lub odżywczy balsam. Jesienią można już zastosować masło lub krem z witaminami, które są cięższe od delikatnych balsamów i dłużej się wchłaniają.
Jesienią specjalnej pielęgnacji wymagają twarz i dłonie, które są najbardziej narażone na działanie zimnego powietrza i wiatru. Pamiętajmy, by raz w tygodniu przeprowadzić peeling skóry twarzy i nałożyć na nią odżywczą maskę. Wczesna jesień to też pora na zmianę kremu na dzień. Należy zrezygnować już z delikatnych chłodzących kremów na rzecz bardziej tłustych, nawilżająco – odżywczych, które będą także chroniły. Nie wolno zapominać o smarowaniu kremem dłoni. W ten sposób zapobiegniemy wysuszeniu naskórka. W styczniu może na to być za późno...
16.11.2009