Nasza zima zła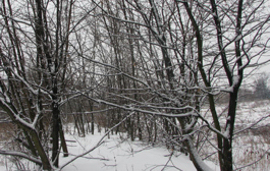 Wszystkie stacje telewizyjne, prasa i radio ze zgrozą informują, że idzie zima, podając kolejno coraz bardziej przerażające temperatury - a to -3, a to -5, a w górach to nawet, uwaga - 11! Na wszelki wypadek sprawdziłam. Ciągle leżymy w tej samej strefie geograficznej co od lat. Śnieg i mróz powinny być normalnym zjawiskiem o tej porze roku. Skąd więc to szaleństwo i ta zgroza?
Kiedy jako dziecko jeździłam do babci na wieś, wchodziłam rano prosto z drzwi domu w tunel śniegowy, znacznie wyższy ode mnie - efekt odśnieżania mojego dziadka. A mróz był taki, że niemal się go słyszało. Do chrztu w lutym wieziono mnie sańmi, a podczas tej wiekopomnej ceremonii dziadek nie był obecny, bo nie chcąc, aby jego ukochane konie zamarzły przed kościołem, jeździł truchtem dookoła. A konie dodatkowo opatulone były derkami. Taka to była przyjemna, zimowa aura. I nikogo to nie dziwiło i nie było tematem rozmów. Jest zima - jest zimno.
Dzisiaj z niewiadomych powodów śnieg i mróz znajdują się na pierwszym miejscu w serwisach informacyjnych, następuje natychmiast paraliż ruchu i zamyka się szkoły. Życie zamiera, a społeczeństwo wstrzymuje oddech bo zaczyna sypać śnieg. Reporterka z Białegostoku dramatycznie informuje o -4 stopniach. Reporter z Koszalina przebija - 6, a rzeszowski dziennikarz z triumfem obwieszcza, -8! Wszystkich poraża alarmująca informacja z Kasprowego Wierchu -11. Zima i mróz zaatakowały Polskę - ostrzegają meteorolodzy tonem, który wskazuje że katastrofa tuż, tuż, a za drzwiami białe misie.
A mróz i śnieg zimą, to chyba nie żadne dziwactwo. Kiedy w lecie jest upał, wszyscy zachwycają się, że piękne lato. Dlaczego więc dziwi zima w zimie?
19.01.2010