Życzę sobie wszystkiego najlepszego...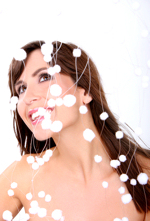 Sama nie wiem, jaki właściwie jest mój stosunek do Dnia Kobiet. Jest to dla mnie denerwujące, bo z reguły wiem, co o czym myśleć. Wiem na przykład, że coraz bardziej przemawia do mnie Dzień Mężczyzn, bo mężczyźni znikają wręcz w oczach, coraz bardziej chorobliwi i zwichrowani psychicznie. Jestem nawet za powołaniem do życia Ligii Ochrony Mężczyzn, bo inaczej wyginą jak mamuty.
Ale z roku na rok, gdy zbliża się 8 marca miotają mną bardzo sprzeczne uczucia. Bo tak - z jednej strony, dlaczego nie? W końcu kto jak nie kobieta zasługuje na swoje święto? Jest zorganizowana, przewidująca, planująca, często zarabiająca, wychowująca, kochająca. Potrafi pogodzić ze sobą mnóstwo rzeczy i zajęć naraz, choć często sama nie wie, jak to robi. Po prostu ma to w sobie i dlatego jest świetna. Te wszystkie cudowne umiejętności, które utrzymują w całości codzienne życie, stały się dla wszystkich tak oczywiste, że nikt już nie zwraca na nie uwagi, nie zastanawia się nad nimi, ani tym bardziej ich nie docenia. Więc Dzień Kobiet należy się jak żaden inny.
Patrząc na to jednak z innej nieco strony, to te właśnie wszystkie zalety przeciętnej matki, żony i kochanki sprawiają, że kobiety powinny obchodzić raczej Dzień Żołnierza - zaprawione w codziennych manewrach, bojach i podchodach. Poza tym drogie Panie, przyznajcie same, czy Dzień Kobiet nie zmusza Was przypadkiem do wzmożonych działań kuchennych, na które nawiasem mówiąc, wcale nie macie ochoty? No bo gdyby tak nie daj Boże Wasz partner wrócił do domu z jakimś zielskiem, to trzeba przecież ugościć go świątecznym obiadem albo uroczystą kolacją - wszak to Wasz dzień. No właśnie, Wasz. A więc jestem za obchodami Dnia Kobiet przez...kobiety. Żadnych facetów, dla których jakaś mała róża staje się okazją do dużej imprezy, z Wami w roli gospodyni. Albo wręcz przeciwnie - próbuje się wyłgać, tłumacząc że to komunistyczne święto. A więc powtarzam - żadnych facetów. W ten dzień zaszalejcie na miarę możliwości oczywiście, albo i trochę ponad nie. Idźcie do fryzjera, do kosmetyczki, na zakupy, raz w życiu nie zwracając uwagi na skrupulatnie liczone codziennie finanse. Raz w życiu nie liczcie, ile obiadu byłoby za Waszą nową fryzurę. Po prostu zróbcie to i już i nie miejcie z tego powodu absolutnie żadnego poczucia winy. Pamiętajcie, że od czasu do czasu trzeba wyglądać extra, bo jak wiadomo oko mężczyzny jest bardziej rozwinięte niż jego rozum. A wieczór proponuję spędzić w towarzystwie dowolnym, byle płci żeńskiej. I niech to będzie wieczór baaaardzo długi.
11.03.2010