Kotlety cielęce z nadzieniem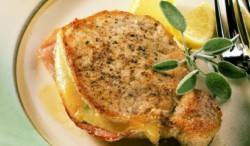 Soczyste, mięciutkie mięsko z pysznym wypełnieniem w postaci sera i szynki. To najlepszy i szybki sposób na świąteczny obiad w powszedni dzień.
Składniki na 4 kotlety:
80 dkg górki cielęcej
4 plastry żółtego sera
4 plastry szynki
kieliszek białego wytrawnego wina
po dwie łyżki oleju i masła, łyżka musztardy (najlepiej miodowej), sok z połowy cytryny, tymianek, sól, pieprz.
Przygotowanie:
Mięso podzielić na cztery kotlety, rozpłaszczyć lekko dłonią i naciąć z jednej strony tworząc jak najgłębszą kieszeń. Z wierzchu skropić sokiem z cytryny, posypać solą i pieprzem, a od środka kieszeń posmarować musztardą. Po plastrze sera i szynki złożyć w trójkąt i wsunąć w kieszeń każdego kotleta. Jeżeli nadzienie bardzo wystaje, to należy je przyciąć. Rozcięte brzegi mięsa spiąć wykałaczkami albo szpilkami do szaszłyków. Osoby bardzo dokładne mogą zeszyć je bawełnianą nitką. W każdym razie spięte to powinno być w miarę szczelnie, bo inaczej wycieknie ser. Na patelni rozgrzać mocno olej z masłem, zrumienić kotlety z obu stron, a następnie posypać tymiankiem, podlać winem i dusić na malutkim ogniu pod przykryciem około 15 minut. Już na talerzu można polać je sosem z duszenia i koniecznie przed podaniem usunąć wykałaczki albo nitkę! Podawać z czym kto chce – ziemniaczki, ryż, makaron.
Smacznego!
17.05.2010