Zupa wiśniowa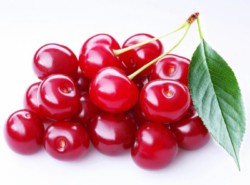 Zupy owocowe z nie do końca jasnych powodów nie cieszą się specjalną popularnością. A szkoda, bo to świetne danie na gorące, letnie dni. Są lekkie, pożywne, szybkie w przygotowaniu i pyszne. Na początek najbardziej chyba znana – zupa wiśniowa, która tak samo dobrze smakuje na gorąco jak i na zimno.
Składniki:
1/2kg wiśni (bez pestek)
2 litry wody
1/3 szklanki cukru
1 łyżka mąki ziemniaczanej
mała śmietana
makaron, najlepiej zacierka
Przygotowanie:
Wiśnie ugotować w wodzie z cukrem, tak jak kompot. Gdy już się zagotują rozrobić mąkę ze śmietaną i wlać do garnka, cały czas ostro mieszając. Potrzymać chwilkę na niewielkim ogniu aż zupa zgęstnieje. Makaron ugotować osobno i dodać do zupy tuż przed podaniem. Inna wersja to lane ciasto, które zarzucamy na zupę przed wlaniem śmietany. Trzeba wtedy dać nieco mniej mąki, bo lane ciasto i tak zupę trochę zagęści. Zupa doskonale smakuje także na chłodno, prosto z lodówki.
Smacznego!
28.07.2010