Maskintorsk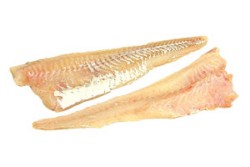 Kuchnia duńska jest u nas prawie zupełnie nie znana, choć Dania ma bardzo stare tradycje kulinarne – pierwsza książka kucharska pochodzi z połowy XIII wieku. Duński obiad to przede wszystkim mięso lub ryby. Jeżeli mięso, to głównie bardzo dobrej jakości, powszechnie dostępna wieprzowina lub baranina, którą jednak oszczędne duńskie gospodynie rzadko wprowadzają do codziennego menu, bo jest piekielnie droga. Jeżeli natomiast ryby, to niemal wszystkie żyjące w morzach.
Dzisiaj proponuję najzwyklejsze filety z dorsza, przyrządzone na sposób duński. Są zaskakująco smaczne, choć Duńczycy jako dodatek do nich stosują ziemniaki przyrządzane w sposób dla mnie absolutnie nie do przyjęcia – na słodko.
Składniki:
8 filetów z dorsza
duża cebula
3-4 łyżki utartego surowego selera
łyżka masła
pół szklanki czerwonego, wytrawnego wina
sól, curry, papryka
Przygotowanie:
Filety lekko posolić i posypać niewielką ilością curry i papryki. Cztery ułożyć w garnku, który ma szczelną pokrywkę, bo to bardzo ważne. Posypać je posiekaną cebulą i selerem, na to położyć kolejne 4 filety, a na wierzchu małe kawałeczki masła. Zalać winem, szczelnie przykryć i dusić na maleńkim ogniu około 25 minut. Podawać z ryżem, albo pszennym pieczywem, albo z ziemniaczkami – byle nie na słodko.
Smacznego!
15.08.2010