Ryba po grecku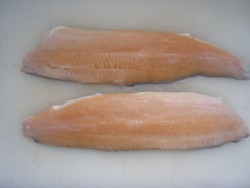 Po karpiu po żydowsku, dzisiaj kolejna wigilijna propozycja rybna. Tym razem może to być dowolna ryba morska, najlepiej w formie gotowych filetów. Ryba po grecku to w wielu domach ulubione danie. Kto jeszcze nie próbował – pora najwyższa.
Składniki na cztery osoby:
4 filety rybne
duża cebula
2 marchewki
pietruszka
kawałek selera
mały koncentrat pomidorowy
listek laurowy
mąka
olej
2 łyżki octu
cytryna, ziele angielskie, pieprz, przyprawa do ryb
Przygotowanie:
Filety skropić sokiem z cytryny, posypać przyprawą do ryb, obtoczyć w mące i usmażyć. Pokrojoną w kostkę cebulę, obgotować 5 minut w wodzie z octem i odcedzić. Wszystkie jarzyny zetrzeć na grubej tarce, zalać niewielką ilością wody, dodać łyżkę oleju, pieprz, ziele, listek laurowy, posolić i dusić do miękkości. Na końcu dodać koncentrat pomidorowy i dokładnie wymieszać. Na każdy filet nałożyć jarzyny, na jarzyny plasterek cytryny i gotowe.
Smacznego!
13.12.2010