Szlakiem karczm i wyszynków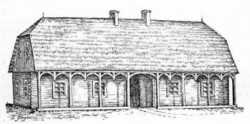 "Chłopy kiedyś mieli dobrze, bo im żony nawet jeść do karczmy nosiły, a teraz to tylko wyzywają: ty pijaku!". Czy karczmy rzeczywiście służyły głównie rozpijaniu pańszczyźnianych chłopów?
Pojawienie się w regionie tarnowskim pierwszych karczm związane jest w zasadzie z osadnictwem na prawie niemieckim, które tu pojawiło się nieco później w porównaniu z innymi regionami pogranicza krakowsko - sandomierskiego.
Ale i w tym regionie, jak i każdym innym, w żadnej wsi nie mogło braknąć karczmy. Karczma spełniała bowiem wszelakie role, bo oprócz miejsca konsumpcji była także ośrodkiem wiejskiego handlu, czymś w rodzaju dzisiejszego motelu, kuźnią, wędzarnią, miejscem spotkań towarzyskich. Była też samowystarczalną jednostką gospodarczą gdyż posiadała pola uprawne i łąki, chmielnik, słodownię, piekarnię, sadzawki rybne i własne bydło rzeźne i trzodę. Jednym słowem było to ówczesne centrum produkcyjno - handlowe. Oczywiście nie wszystkie i nie wszędzie. Zdarzały się, jak i dzisiaj, typowe "mordownie", nastawione głównie na szybki i niezasłużony zarobek.
Ewenementem w regionie tarnowskim był Radłów. W 1529 roku było tu aż dziesięć karczm, a wieś uboga i mała - było tam jedynie dziewięć łanów kmiecych, pół łana sołtysiego i dwa młyny. A jednak siedem lat później karczm było tu już dwanaście. A tymczasem w Lubczy, dużej wsi królewskiej ze znaczną liczbą kmieci, w tym samym czasie były tylko cztery karczmy, a w wielu innych wsiach po dwie.
Karczmy lokalizowane były zwykle w miejscach najbardziej uczęszczanych. Jeżeli była to duża wieś, z kościołem i dworem, karczma mieściła się w ich pobliżu. Tak było m.in. w Łęgu Tarnowskim, Partyniu, Ilkowicach czy Wierzchosławicach. Często, tak jak w Łęgu Tarnowskim czy Rzepienniku, karczmy znajdowały się po obu stronach kościoła i nikomu to nie przeszkadzało. Stawiano je także przy uczęszczanych szlakach, przy skrzyżowaniu dróg, w pobliżu przeprawy przez rzekę. Podobnie było i w miastach - karczmy i wyszynki mieściły się przy placach targowych jak w Tarnowie, w rynku jak w Tuchowie, Zakliczynie, Dąbrowie Tarnowskiej czy Brzesku oraz na rogatkach miasta jak w Tarnowie, Brzesku, Brzostku czy Zakliczynie. Potoczny podział obejmował karczmy "przy drodze", do których wstępowano przy okazji jarmarków i "przy kościele", które odwiedzano w niedzielę i święta.
Nazwy karczm tworzono najczęściej od nazwiska właściciela - "U Srulka", "U Juklowej" a niektóre z nich pokrywały się ze znanymi nam dzisiaj nazwami wsi - "Zabawa", "Zawada", "Wychylówka".
Na uwagę zasługują nazwy wyszynków usytuowanych wzdłuż drogi z Tarnowa do Łęgu, które istniały prawdopodobnie do I wojny światowej, a być może jedynie do końca XIX wieku. Pierwszy z nich znajdował się na granicy Tarnowa i Łęgu i nosił nazwę "Zarękawek" bo za rękawek tzn. za podwinięty mankiet płaszcza chłopi sięgali i wyciągali pieniądze. Drugim z kolei była "Wychylówka", bo jeszcze wychylano po kieliszku, ostatni z wyszynków "Wytrząska" służył już tylko do wytrząsania z kieszeni resztek gotówki.
Wyposażenie karczm stanowiły długie ławy i stoły, a zapasy trunków i jedzenia przechowywano w piwnicach. Towar sprzedawany na bieżąco trzymano w komorze obok szynku. Co do czystości zdania są mocno podzielone. Jedni utrzymywali, że zawsze było tam czysto, inni z całą stanowczością twierdzili, że gorzej jak w stajni. Ale wszyscy zgadzali się co do jednego - im bardziej czysta karczma, tym droższa wódka. W karczmie żydowskiej w Bogumiłowicach zdarzył się podobno taki wypadek: siedzi chłop i je. Po chwili znalazł w tym jedzeniu kawałek brudnej, byle jakiej szmaty. Woła więc Żyda i pyta: co to jest? A Żyd na to: a co, za te pieniądze jedwabiu byś chciał?
Po I wojnie światowej skończył się okres świetności karczm. Wódka zdrożała, a ludzie zubożeli. Do 1935 roku zniknęły również wyszynki żydowskie, a te które przetrwały dokończyły żywota w okresie II wojny światowej.
Wódka, przywożona w beczkach albo w butelkach była raczej mocna, a robiono ją z jęczmienia i ziemniaków. Czysta z gorzelni, nazywana okowitą mogła być na życzenia gościa zaprawiona palonym cukrem, pieprzem albo miętą. Piwo sprowadzano albo z browaru w Tarnowie albo z Okocimia, przy czym okocimskie było podobno lepsze. Z Tarnowa sprowadzano także rum bardzo dobrej jakości. Ceny wódki nie były zbyt wygórowane - pół litra kosztowało od 10 do 35 centów i była to równowartość jednego dnia pracy robotnika w polu. Ale byli oczywiście i tacy, którzy majątek przepijali - " nie szedł chłop do chałupy, tylko pił na krychę i po miesiącu Żyd konfiskował cały majątek ". Generalnie piwo było najtańsze, a rum najdroższy, choć np. w Mesznej najtańsza była wódka. Trudno natomiast dociec, ile kosztowała zakąska. Najwyraźniej podczas biesiad nie bardzo dbano o jedzenie. Karczmarze też niejako we krwi mieli oszukiwanie klientów. Najprostszym sposobem było dolewanie do trunków wody - "Jeden, drugi kieliszek był dobry, a do trzeciego dolewali wody, bo chłop już nie czuł. Pieniądze wziął, a chłop trzeźwy wychodził" . Innym, równie mało wyszukanym sposobem było zawyżanie rachunku - "Jak chłop był pijany, to Żydzi może nie tyle dolewali wody, co mocno zawyżali ceny trunków".

Wydaje się jednak, że problem alkoholizmu nie istniał, albo istniał w bardzo ograniczonym zakresie. " Dawniej to nie jak teraz było. Jak kto kupił litrę wódki, to czterech chłopów siedziało cały dzień przy tym. Ze szynku szedł, a nie wiadomo było czy tam pił czy nie". "Chłopi nie nadużywali alkoholu. Wódka była za droga i nikt nie pił do upadłego bo nie miał za co" . Rygory i zasady też były inne. Nikt nie musiał wywieszać tabliczek o zakazie sprzedaży nieletnim bo "dawniej pili tylko starzy. Jak zobaczyli że jakiś młody kupuje na wypicie, to go z karczmy wyrzucali. Młodym nie wolno było, bo byle który stary pasem uderzył" . Jak kobieta nie chciała pić, to moczyła tylko usta w kieliszku i resztę wylewała. Odmówić jednak nie mogła, bo to byłaby obraza.
W samym Tarnowie karczm, wyszynków i jadłodajni było sporo. Na Burku, zaraz przy placu targowym był tzw. "Prażuch" - mała, tandetna żydowska jadłodajnia z tanim alkoholem, nastawiona głównie na wiejską klientelę przyjeżdżającą na targ. Przy skrzyżowaniu dzisiejszych ulic Gumniskiej i Mostowej, do II wojny funkcjonował żydowski wyszynk. Zajazd podmiejski mieścił się również w obecnym budynki Muzeum Etnograficznego przy ulicy Krakowskiej 10. Na ulicy Dąbrowskiego 5 znajdował się zajazd Żydowski, a na Mościckiego 66 żydowski wyszynk w drewnianym, oszalowanym, dziś już nieistniejącym budynku. Na Placu Drzewnym, obecnie Kołłątaja 1 znajdował się tani zajazd żydowski - "był to taki podlejszy zajazd w Tarnowie" . Przy ulicy Klikowskiej 147 do II wojny mieścił się wyszynk żydowski, do którego wstępowało się w drodze z lub do Tarnowa, podobnie jak do gospody przy Klikowskiej 242. To była jednak gospoda jak się patrzy, z festynami i zabawami. Prowadzona przez Polaka, w suterenach mieściła warsztat stolarski właściciela i sklep, a na górze dwie sale, w których był lokal.
Z karczmami w regionie tarnowski wiąże się wiele ciekawych opowieści i legend. Przy drodze z Otfinowa do Żabna jest wał, przy którym kiedyś była karczma. Podobno pewnego dnia, na Zapusty zjechało się tam sporo gości i zabawa trwała na całego. Bawiono się tak dobrze, że przegapiono nadejście środy popielcowej. Tymczasem w Niecieczy ktoś zachorował i wezwano księdza. Ten, przejeżdżając obok karczmy w której w najlepsze trwała zabawa, przeżegnał ją i karczma zapadła się pod ziemię, a na jej miejscu powstał staw bez dna. To jeszcze nie koniec. Otóż prawie pięćdziesiąt lat później na tym stawie ukazywała się pływająca po powierzchni wody wstążka. Gdy tylko ktoś chciał tę wstążkę wyłowić, zaraz słyszał muzykę. Drugi taki tajemniczy staw na miejscu dawnej karczmy ma się znajdować w Rzepienniku Suchym.
Nagłe zniknięcie wszystkich tych przybytków po II wojnie światowej najlepiej podsumował sporo lat temu pewien milicjant z Czarnej Tarnowskiej, który w życiu niejedno widział - "Kiedyś to było dobrze z tymi karczmami, w każdej wsi wódkę można było kupić. Nie to co teraz. Jakby to ode mnie zależało, to wódkę do każdego kiosku "Ruchu" bym dał do sprzedaży. Tylko zmieniłbym dyscyplinę pracy. Jak ktoś przychodzi do roboty i czuć od niego alkohol - nie wpuścić na teren zakładu, odliczyć dniówkę. Niech on cierpi, a nie inni."...
Informacje i cytaty zaczerpnięte z pracy magisterskiej "Miejsce karczmy w życiu wsi na przełomie XIX i XX w. na przykładzie regionu tarnowskiego", Warszawa 1989 r.
06.04.2011