Tajemnica szczątków generała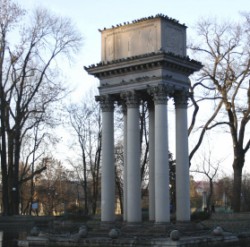 30 czerwca 1929 do Tarnowa powróciły prochy Józefa Bema. Generał zmarł na terenie ówczesnej Turcji 79 lat wcześniej, w grudniu 1850 roku. Dziś, kiedy przywykliśmy już do widoku mauzoleum w Parku Strzeleckim rzadko zdajemy sobie sprawę, że złożenie szczątków generała właśnie w rodzinnym mieście wcale nie było sprawą oczywistą. Niektórzy zwolennicy ponownego pochówku generała na ziemiach Polski uważali, że jedyne godne tej postaci miejsce to wawelskie wzgórze, inni optowali za Warszawą, jako stolicą odrodzonego państwa. Z powrotem generała do Tarnowa wiąże się pewna tajemnica, którą publicznie ujawniono w 80 lat po tamtych wydarzeniach.
Po zakończeniu I wojny światowej i odrodzeniu państwa polskiego po 123 latach niebytu pojawiła się idea, aby szczątki wielu polskich bohaterów zmarłych lub poległych na emigracji pochować ponownie w kraju. Byłby to symbol pamięci i forma uhonorowania osób, które w dzieło odzyskania niepodległości starały się wnieść jak największy wkład. Wśród polskich bohaterów, których prochy postanowiono sprowadzić do kraju znalazł się również Józef Bem, żołnierz armii Napoleona I, kawaler Legii Honorowej, dowódca artylerii Wojska Polskiego w Powstaniu Listopadowym, naczelny wódz powstania węgierskiego 1848 - 1849.
Przyszły generał urodził się w Tarnowie 14 marca 1794 roku, niedługo później rodzina Bemów z małym Józefem przeniosła się do Krakowa i nigdy później Józef Bem nie odwiedził rodzinnego miasta. Zmarł 10 grudnia 1850 roku w Aleppo, syryjskim mieście leżącym w granicach ówczesnego imperium tureckiego. Pochowano go na muzułmańskim cmentarzu wojskowym Dżebel-el-Isam.
Idea sprowadzenia prochów generała do Ojczyzny spotkała się z szerokim, pozytywnym odzewem społecznym. Kiedy w 1927 roku podjęto starania w tej sprawie "Komitet Sprowadzenia do Kraju Zwłok Generała Józefa Bema" zawiązał się pod patronatem Prezydenta Rzeczypospolitej Ignacego Mościckiego, a w jego składzie znalazł się m.in. marszałek Józef Piłsudski. Również w Tarnowie powołano do życia "Lokalny Komitet Sprowadzenia Zwłok Generała Józefa Bema".
Tarnowianie uważali, że najlepszym miejscem dla złożenia prochów generała będzie jego rodzinne miasto, nie wszyscy jednak skłonni byli to przekonanie podzielać. Proponowano Warszawę, lub Wawel. Na łamach prasy pojawiały się m.in. niezbyt przychylne dla Tarnowa uwagi, że złożenie prochów Bema w Tarnowie podniesie rangę miasta, ale obniżyć może prestiż osoby generała i całej Polski. Ostateczna decyzja była jednak korzystna dla Tarnowa.
7 lutego 1928 roku ówczesny burmistrz Tamowa Julian Kryplewski podpisał umowę z profesorem Adolfem Szyszko - Bohuszem, rektorem Akademii Sztuk Pięknych w na wykonanie mauzoleum, w którym miały spocząć sprowadzone do kraju prochy generała Józefa Bema. Pamiętać bowiem należy, że ten wybitny tarnowianin pod koniec życia przeszedł na islam, i zmarł jako feldmarszałek armii tureckiej. Pochowanie go więc w którymś z tarnowskich kościołów, czy katolickim cmentarzu nie wchodziło w grę. Zdecydowano się zatem na Park Strzelecki i mauzoleum
20 czerwca 1929 roku dokonano w Aleppo ekshumacji zwłok, w ceremonii tej uczestniczyli m.in. członkowie specjalnej polskiej misji, którzy w tym właśnie celu udali się do Aleppo. Trumnę ze szczątkami generała w pierwszym etapie podróży do kraju przewieziono do Budapesztu, gdzie 27 czerwca wystawiona została na widok publiczny w Muzeum Narodowym. W dalszej podróży konduktowi towarzyszyła węgierska asysta wojskowa.
29 czerwca wagon z prochami generała Bema przejechał granice Polski. Trumnę na kilkanaście godzin wystawiono na dziedzińcu zamku na Wawelu, zaciągnięto wartę honorową. Następnego dnia pociąg z trumną Bema wjechał na tarnowski dworzec. Gospodarze udekorowali zarówno dworcowe perony, jak i ulice miasta i budynki znajdujące się na trasie przemarszu konduktu od dworca kolejowego do Parku Strzeleckiego. Przy dźwiękach "Warszawianki" kondukt przemaszerował ulicami Krakowską, Wałową i Piłsudskiego, pomiędzy szpalerami mieszkańców, żegnających narodowego bohatera. U wylotu ulicy Krakowskiej ustawiono bramę triumfalną. W ostatnim fragmencie trasy - w Parku Strzeleckim - trumnę generała ponieśli na ramionach wojskowi. Ostatnim pożegnaniem generała była salwa artylerii. Ponowny pochówek generała Bema uznano za wydarzenie takiej rangi, że po raz pierwszy w dziejach miasta z Tarnowa odbyła się transmisja radiowa na całą Polskę.
Z wydarzeniami z roku 1929 związana jest ponadto pewna tajemnica, którą publicznie ujawniono po 80 latach od tamtych wydarzeń. Zdarzało się, że przy sprowadzaniu szczątków sławnych Polaków z zagranicy pojawiały się wątpliwości, czy trafnie je zidentyfikowano. Wśród badaczy i publicystów pojawiły się również hipotezy jakoby w mauzoleum tarnowskim pochowana była inna osoba, niż generał Józef Bem. Ze stuprocentową pewnością można jednak rozwiać te wątpliwości. W roku 2009 w Muzeum Okręgowym w Tarnowie po raz pierwszy publicznie pokazano dowody, które pozwalają wyrobić sobie zdanie na ten temat. Przede wszystkim udostępniono szczątki kostne generała pozyskane już w Tarnowie przed pochówkiem. Kość śródręcza oraz ząb stanowią niespotykany, sensacyjny eksponat. Tradycja ustna, jaką przekazano przy tej okazji brzmi jak sensacyjne opowiadanie. Kondukt żałobny przeszedł 30 czerwca 1929 roku do Ogrodu Strzeleckiego i tam trumnę złożono na stopniach Mauzoleum. Po przemówieniach, składaniu wieńców i salwach artyleryjskich goście rozeszli się, a trumnę odwiedzali jeszcze popołudniem harcerze. Co zdarzyło się później?
Oficjalny program mówi o złożeniu szczątków generała w krypcie Mauzoleum, posadowionej na kolumnach, 12 metrów na ziemią. Tymczasem w niedzielę, 30 czerwca, nic takiego nie miało miejsca. Wyniesienie trumny na tę wysokość wymagało użycia konstrukcji, którą postawiono prawdopodobnie dopiero następnego dnia. Gdzie trumna znajdowała się przez noc?
Otóż nieliczni tarnowianie przed wojną wiedzieli, że trumnę wniesiono na noc do pałacyku Towarzystwa Strzeleckiego, gdzie ściśle dobrane grono zacnych mieszczan dokonało otwarcia trumny i ponownego zbadania szczątków gen. Józefa Bema. Materialne tego dowody, to fotografie czaszki i kości, wykonane przez zakład fotograficzny "Mroczkowski" i owe szczątki kostne, które po latach trafiły do zbiorów muzealnych. Fotografie oraz dokumenty ostatecznie rozwiewają nieprawdopodobne, bajkowe opowieści o tym, że Mauzoleum zawiera szczątki innej osoby, a nie wielkiego generała.
06.04.2011