Karol Wojtyła w Tarnowie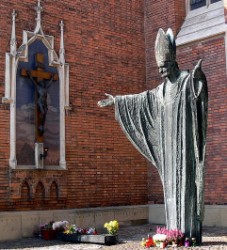 W latach 1958 - 78, jako biskup krakowski Karol Wojtyła wielokrotnie odwiedzał Tarnów oraz teren diecezji tarnowskiej. Po raz ostatni przed wyborem na papieża był w Tarnowie 10 września 1978 roku, kiedy to uczestniczył w diecezjalnych uroczystościach ku czci świetego Stanisława i przemawiał na placu przed tarnowską katedrą. Jako papież Jan Paweł II odwiedził Tarnów podczas trzeciej pielgrzymki do Polski - w czerwcu 1987 roku.
Po raz pierwszy biskup Karol Wojtyła odwiedził Tarnów jesienią 1958 roku, kiedy to spotkał się z biskupem tarnowskim Janem Stepą. W ciągu następnych 20 lat jeszcze kilkanaście razy odwiedzał Tarnów, był również gościem w innych miastach i miejscowościach diecezji tarnowskiej. Odwiedzał m.in. Dębicę, Okulice, Szczepanów, Ołpiny, Tropie, Limanową, Stary i Nowy Sącz.
Do Tarnowa przyjechał, wspólnie z kardynałem Stefanem Wyszyńskim w 1966 roku na uroczystości milenijne. Arcybiskup Wojtyła odprawił mszę w katedrze i udzielił wiernym błogosławieństwa.
Czterokrotnie przyszły papież przybył do Tarnowa w roku 1968. Najpierw uczestniczył w jubileuszu kapłaństwa biskupa Jerzego Ablewicza. W katedrze przeczytał telegram papieża Pawła VI do Jerzego Ablewicza, następnie wygłosił własne przemówienie. - Z okazji dwudziestopięciolecia Twojego przebogatego w zasługi kapłaństwa, Ojciec św. przekazuje Ekscelencji szczere gratulacje i wyrazy najgłębszego uznania - napisano w telegramie ze Stolicy Apostolskiej.
W kwietniu 1968 roku Karol Wojtyła dokonał konsekracji księdza biskupa Piotra Bednarczyka, a w listopadzie przyjechał po raz kolejny, tym razem na uroczystości pogrzebowe biskupa Karola Pękali. - Składam wyrazy współczucia całej Diecezji Tarnowskiej, a w szczególny sposób miastu Tarnowowi, które dzisiaj tak gremialnie uczestniczyło w pogrzebie swego Rodaka i Biskupa - mówił w mowie pogrzebowej. - Szliśmy ulicami Tarnowa i błagaliśmy dla Ciebie o miłosierdzie. Stoimy teraz przed Kościołem, w którym mają spocząć Twoje szczątki i błagamy dla Ciebie miłosierdzia.
Ostatnia wizyta, w grudniu 1968 roku miała związek z zakończeniem peregrynacji Matki Bożej Częstochowskiej w diecezji krakowskiej i rozpoczęciem nawiedzenia w diecezji tarnowskiej. Po raz kolejny odwiedził miasto, odprawił mszę i wygłosił kazanie w marcu 1970 roku, na zakończenie nawiedzenia.
W następnym roku przybył na jubileusz 150 - lecia Seminarium Duchownego, tarnowskie seminarium Karol Wojtyła odwiedził również w roku 1972, tym razem w towarzystwie kardynała Jana Króla z USA. W maju 1976 roku Karol Wojtyła po raz kolejny odprawił mszę i wygłosił kazanie w tarnowskiej katedrze podczas uroczystości ku czci błogosławionej Marii Teresy Ledóchowskiej. W grudniu tego samego roku arcybiskup uczestniczył w pogrzebie księdza infułata Jana Bochenka. Karol Wojtyła przewodniczył obrzędom, a następnie poprowadził kondukt pogrzebowy na cmentarz.
W roku 1977 kardynał Wojtyła był w Tarnowie z okazji imienin biskupa Jerzego Ablewicza, i wreszcie w 1978 roku przyjechał do Tarnowa 10 września. Uczestniczył w diecezjalnych uroczystościach ku czci świętego Stanisława, wygłosił krótkie przemówienie, na placu katedralnym, w miejscu gdzie stoi jego pomnik. Była to ostatnia wizyta w Tarnowie Karola Wojtyły jako arcybiskupa krakowskiego.
Na kolejną, tym razem rzeczywiście niestety ostatnią, Tarnów czekał do 9 czerwca 1987. Tego dnia o godzinie 20.20. papieski śmigłowiec wylądował na boisku "Unii" Tarnów. Papież przejechał ulicami miasta przepełnionymi witającymi go mieszkańcami do siedziby biskupów tarnowskich, która po raz pierwszy w historii stała się na dwa dni rezydencją papieża. Tego dnia program nie przewidywał żadnych spotkań, ale przed kurią zgromadziły się tłumy młodzieży, które oczekiwały ze śpiewem i modlitwą na ukazanie się papieża w oknie. Papież przemówił do młodzieży, zaimprowizowane spotkanie trwało około 10 minut. - Bardzo się cieszę, że jestem w Tarnowie i stoję tu, w tym oknie. Nigdy tu w tym oknie nie stałem. Musiałem ciężko pracować na to, żeby tutaj, w tym oknie sobie stanąć - mówił do młodych tarnowian Jan Paweł II.
Następnego dnia spotkanie z wiernymi odbyło się na nowym osiedlu Jasna II. Wokół ołtarza ustawionego na fundamentach budowanej świątyni zgromadziły się ponad dwa miliony ludzi. Ojca świętego powitał ówczesny ordynariusz tarnowski biskup Jerzy Ablewicz. Przewidziany był przejazd papieża pomiędzy zgromadzonymi, okazało się to jednak niemożliwe ze względu na deszcz, który rozmył drogę między sektorami. Ostatecznie papież powitał wiernych z podwyższenia przed ołtarzem.
Na nabożeństwo, podczas której Jan Paweł II beatyfikował Karolinę Kózkównę przybyli do Tarnowa przedstawiciele rolników z całego kraju. Mszę koncelebrowało 160 biskupów i kapłanów, wśród nich sekretarz stanu, kardynał Agostino Casaroli i prymas Węgier.
Przed rozpoczęciem nabożeństwa papież poświęcił 126 kamieni węgielnych pod budowę obiektów sakralnych, dzwony, wizerunki Matki Boskiej i tabernakulum. Kulminacyjnym punktem mszy było wyniesienie na ołtarze Karoliny Kózki, papież wygłosił uroczystą formułę beatyfikacyjną.
Po zakończeniu uroczystości papież poinformował o podniesieniu do godności arcybiskupiej ordynariusza diecezji tarnowskiej, biskupa Jerzego Ablewicza.
Po południu, o 14.45, na Placu Katedralnym w Tarnowie Jan Paweł II celebrował uroczyste nieszpory o Najświętszym Sakramencie z udziałem kapłanów i zakonnic. Homilia wygłoszona do duchowieństwa podczas nieszporów była ostatnim przemówieniem papieża w Tarnowie. Po nabożeństwie papież odleciał do Krakowa, jego śmigłowiec wylądował na Błoniach Krakowskich 10 czerwca około godziny 17.00.
06.04.2011