Zagadka wojennej historii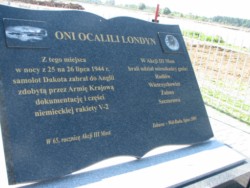 W lipcu 1944 roku z polowego lądowiska "Motyl" pod Radłowem wystartował angielski samolot wojskowy "Dakota", na pokładzie którego wywieziono z Polski części niemieckiej broni V2 wraz z dokumentacją i kilka ważnych osób, w tym przyszłego premiera polskiego rządu na emigracji. Z akcją tą, nazwaną "Trzeci Most", wiąże się również jedna z najdziwniejszych zagadek polskiej wojennej historii.
"Most" to kryptonim akcji specjalnej polegającej na wysyłaniu samolotów alianckich w 1944 roku na teren okupowanej Polski z bazy lotniczej w Brindisi na terenie Włoch. Tą drogą przewożono emisariuszy, sprzęt i korespondencję prowadzoną pomiędzy Komendą Główną Armii Krajowej, Delegaturą Rządu RP na Kraj a rządem polskim w Londynie. W ciągu kilku miesięcy w 1944 przeprowadzono trzy takie operacje, planowano przeprowadzenie kolejnej, jednak nie doszła już ona do skutku. Dwie spośród trzech akcji "Most" miały miejsce w rejonie Tarnowa, ale w kraju przygotowane były trzy, a być może nawet cztery lądowiska dla angielskich samolotów. Pracował nad tym w konspiracji wydzielony zespół oficerów - lotników, a proponowane lokalizacje lądowisk dotyczyły miejscowości Bełżyce pod Lublinem, rejonu Grójca i właśnie okolic Tarnowa (kryptonim "Motyl").
Pierwszy "Most" zrealizowany został 16 kwietnia 1944 roku w rejonie Bełżyc. Z Polski wyleciał wówczas generał Stanisław Tatar i czterech innych emisariuszy.
Drugi "Most" odbył się już z lądowiska "Motyl" pod Tarnowem. 30 maja 1944 roku z rejonu Biskupic Radłowskich i Wał - Rudy odlecieli do Anglii trzej kolejni polscy oficerowie, a także dokumenty Komendy Głównej Armii Krajowej.
Najbardziej spektakularna akcja, "III Most", miała jednak miejsce w lipcu 1944. Na jesień roku 1944 zaplanowano kolejną operację, tym razem jednak nie pod Tarnowem, ale w rejonie Tomaszowa Mazowieckiego. Wówczas to odlecieć miał do Anglii Wincenty Witos i spora grupa polskich polityków z różnych ugrupowań. Przelot nie doszedł jednak do skutku i w ten sposób lipcowa akcja pod Tarnowem zakończyła aliancką operację specjalną.
26 lipca odlecieli spod Tarnowa do Londynu m.in. Tomasz Arciszewski, późniejszy premier rządu polskiego i kilku oficerów. W ramach trzeciego "Mostu" przewieziono także do Anglii części przejętej przez Polaków niemieckiej broni V 2 wraz z dokumentacją, ale najciekawszy wątek tej kurierskiej misji dotyczy postaci Józefa Hieronima Retingera.

Nie sposób tu opisać całego życia i kariery Józefa Hieronima Retingera (1888 - 1960) - "zagadkowego agenta, nie wiadomo czyjego", "prywatnego polityka", człowieka, o którym "nie sposób komukolwiek powiedzieć, że znał go dobrze", "awanturnika w dobrym znaczeniu tego słowa", "jednego z najbardziej znanych i wpływowych masonów w historii", jak pisano o nim w ciągu kilku dziesięcioleci publicznej a zapewne i tajnej aktywności. Jego publiczną wypowiedź, że pracuje równocześnie dla trzech wywiadów uznać trzeba raczej jako żart, ale faktem jest, że kiedy w 1944 znalazł się w Polsce próbowano go zamordować, i nie podjęli tych planów Niemcy, ale Polacy, żołnierze AK. Faktem jest także, że wcześniej był najbliższym współpracownikiem generała Władysława Sikorskiego, któremu torował drogę w Anglii i budował jego pozycję, faktem jest również, że był pierwszym charge d'affaires rządu Polskiego w Moskwie po nawiązaniu przez rząd polski w Londynie stosunków ze Związkiem Radzieckim. Jako jeden z pierwszych Polaków na emigracji konsekwentnie głosił, iż "wojny nie wygrają generałowie, ale politycy". Przypisywano mu również wypowiedź po katastrofie w Gibraltarze i śmierci Sikorskiego - "gdybym był wtedy z generałem, nie byłoby tej katastrofy". Nie ma oczywiście żadnych dowodów na potwierdzenie takiej tezy, są natomiast dość bezczelne insynuacje niektórych środowisk emigracyjnych, że Retinger nie poleciał z Sikorskim wiedząc, że generał tej podróży nie przeżyje.

Retinger, syn krakowskiego adwokata, wnuk rektora Uniwersytetu Jagiellońskiego, w młodości wydawca i redaktor czasopisma kulturalnego w Krakowie, już przed I wojną został wysłany przez działającą w Galicji Radę Narodową do Londynu w charakterze kierownika biura informacyjnego, przed wybuchem wojny wrócił do Polski - razem z innym krakowianinem - Józefem Korzeniowskim - Conradem, wyjechał znowu po rozpoczęciu wojny, by politykom angielskim przypominać o sprawie polskiej niepodległości.
Wówczas to poznał Winstona Churchilla (był rok 1914!). W sprawach polskich odwiedził również Stany Zjednoczone, próbując nakłaniać amerykańskich Polaków do wstępowania w szeregi armii, podobną wizytę powtórzył po latach z Władysławem Sikorskim, obie próby werbunku uznać należy raczej za nieudane. Najprawdopodobniej brał także udział w dyplomatyczno - politycznej operacji mającej na celu rozerwanie sojuszu Niemiec z Austro - Węgrami i podpisaniem odrębnego pokoju przez to drugie państwo.
Pierwszy okres powojenny spędził w Meksyku, gdzie akurat do władzy doszli jego przyjaciele, później mieszkał w Londynie, ale często przebywał w Warszawie, gdzie zaprzyjaźnił się z generałem Sikorskim, posługiwał się również polskim paszportem konsularnym. Po wybuchu wojny, a właściwie po klęsce Francji w roku 1940 pomógł generałowi Sikorskiemu przedostać się do Londynu, ale po śmierci Sikorskiego znalazł się na dalszym planie polskiego życia. Być może dlatego postanowił odbyć ryzykowną ekspedycję do okupowanej Polski.

Mając lat blisko 60 zrzucony został jako skoczek spadochronowy (pseudonim "Brzoza") do okupowanej Polski. Było to możliwe prawdopodobnie tylko dlatego, że premierowi Stanisławowi Mikołajczykowi wytłumaczył, iż jego podróż do Polski potrzebna jest Anglikom, Anglikom zaś wmówił, że na jego wyjazd nalega Mikołajczyk. Przed wyjazdem napisał dwa listy, do prezydenta i premiera, prosząc m.in. o zaopiekowanie się córkami w przypadku jego śmierci oraz anonsując swój powrót za około sześć tygodni. W rzeczywistości przebywał w Polsce kilka miesięcy i niewiele brakowało, by przepłacił swą misję życiem. Część Polaków uznała, że dr Retinger działa na niekorzyść narodu, niezgodnie polską z racją stanu i powinien za to zostać ukarany śmiercią. O jego misji nie wiedzieli bowiem ani prezydent, ani Naczelny Wódz. Decyzja w tej sprawie zapaść miała w Londynie, w sztabie Naczelnego Wodza.
Sądzi się, że powodem zarówno wyjazdu do Polski jak i podjęcia w pewnych kołach emigracyjnych decyzji o zamordowaniu Retingera było jego przekonanie o nieuchronności katastrofy polskiej polityki kreowanej w Londynie. Retinger, w przeciwieństwie do wielu polskich polityków i wojskowych, nie miał żadnych złudzeń co do postawy sojuszników, rozmawiając w Polsce z przedstawicielami sił politycznych szukał szans na złagodzenie skutków tej katastrofy, chciał również zapewne, by Polacy w kraju mieli za jego pośrednictwem rzeczywisty i dokładny obraz sytuacji międzynarodowej. W liście do premiera pisał przed odlotem do Polski o koniecznej w przyszłości współpracy z Rosją, miał nadzieję tworzyć grunt pod takie porozumienie. Bardziej śmiałe hipotezy mówią, że próbował również zapobiec wybuchowi Powstania Warszawskiego. Najprawdopodobniej te poglądy stały się przyczyną wydania na niego wyroku śmierci w Londynie. Pierwotnie Retinger miał odlecieć z Polski w ramach drugiego "Mostu". Został jednak okradziony z dokumentów, "wypadł" z bryczki, którą jechał na miejsce startu, "spóźnił się" na samolot, który ostatecznie odleciał bez niego.

Po kilku miesiącach pobytu w Polsce, w tym m.in. w dworze w Dołędze, w lipcu 1944 roku Józef Retinger na lądowisku pod Tarnowem wsiadł do samolotu i opuścił Polskę. Po wojnie pozostał w Londynie, gdzie zmarł w biedzie, angażując się jednak wcześniej w działalność na rzecz jednoczenia się powojennej Europy. Do dziś jego nazwisko wymieniane jest w gronie ojców integracji europejskiej - Alciede De Gasperiego, Roberta Schumana, Konrada Adenauera czy Jeana Monneta. Przed śmiercią odwiedził jeszcze kraj, podobno spotkał się z ówczesnymi przywódcami PRL. - Gdybyśmy mieli takich 10 Retingerów, to by Polskę ocalili, jeden nie wystarczył - konkludował po latach w swoim "Abecadle Kisiela" Stefan Kisielewski.
06.04.2011