Komedia o komedii – Czego nie widać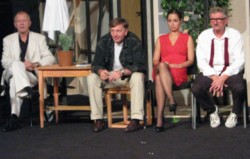 Na rozpoczęcie jubileuszowej 15. "Talii" tarnowski teatr zafundował widzom własną premierę sztuki Michaela Frayna "Czego nie widać". Najkrócej rzecz ujmując, można tu było, kupując jeden bilet, oglądnąć trzy przedstawienia...
W premierowym spektaklu tarnowskiego teatru wyreżyserowanym przez Jana Tomaszewicza i inaugurującym tegoroczną "Talię", widzowie mogą nie tylko zobaczyć to "Czego nie widać", ale także usłyszeć to, czego nie słychać na teatralnej widowni podczas, mozolnie wydawałoby się, budowanego przedstawienia.
Sztuka Michaela Frayn'a to opowieść lekka, łatwa i przyjemna. Historyjka pełna komizmu opowiada o próbie generalnej spektaklu teatralnego, gdzie aktorzy dają się poznać z dwóch stron – jako aktorzy właśnie i jako osoby prywatne. Dowcip polega na zderzeniu zakulisowych i prywatnych perypetii aktorów z ich perypetiami scenicznymi - artyści robią sobie wzajemnie mniej lub bardziej wyszukane kawały, kradną rekwizyty i urządzają sceny zazdrości tuż przed wyjściem na scenę, co w połączeniu z ich nieudolnym aktorstwem przynosi efekt w postaci niezliczonych komicznych pomyłek.
O ile w pierwszym akcie wszytko jest jeszcze w miarę poukładane, o tyle dwie kolejne odsłony wprowadzają coraz większy chaos i zamęt. Budowa i scenografia spektaklu odsłaniają jak na dłoni tajemnicę magii teatru – akt drugi odkrywa wnętrzności scenografii z aktu pierwszego i oto nagle znajdujemy się za kulisami, w środku jednego wielkiego bałaganu, nad którym próbuje zapanować roztrzęsiona inspicjentka. A po drugiej stronie dekoracji przedstawienie trwa...
Komicznych sytuacji i nieporozumień jest coraz więcej, bo umiejętnie wykorzystano tu wszystkie rodzaje komizmu – sytuacji, bohatera i słowny. Nie można mieć zastrzeżeń do aktorów. W podwójnych rolach – aktorów i postaci sztuki – poradzili sobie. Ta farsa to połączenie matematyki i tańca. Jeśli wszystko jest wykonywane z zegarmistrzowską precyzją, oglądamy spektakl lekki, zabawny, swoim rytmem zmierzający do puenty. Jeśli tej precyzji braknie – robi się mniej śmiesznie. Wydaje się, że tarnowscy aktorzy, przynajmniej podczas premiery, poradzili sobie z trudnym wyzwaniem, choć momentami tempa i dynamiki, zwłaszcza w pierwszym akcie, nieco brakowało.
Wszystkich tajemnic nowej premiery zdradzać nie należy, warto je samemu odkryć, można jednak zapewnić, że "Czego nie widać" to niewątpliwie sympatyczna i zabawna farsa nie skłaniająca do żadnych refleksji. No, może do jednej tylko – że choć opowiastka to mocno przerysowana, można sobie wyobrazić, że tak właśnie trochę wygląda życie w każdym teatrze...
06.10.2011