Podziemny tarnowski cmentarz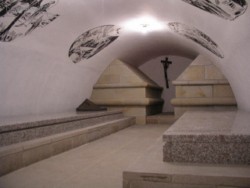 Całe podziemia tarnowskiej katedry stanowią ogromny, najstarszy w Tarnowie cmentarz, na którym w ciągu kilkuset lat pochowano tysiące osób. Pierwsze wzmianki o kościele parafialnym w Tarnowie pochodzą z połowy XIV wieku, na ten okres datować zapewne należy również pierwsze pochówki w podziemiach.
W podziemiach tarnowskiej katedry znajduje się siedem krypt, w których przez kilkaset lat chowano znamienitych mieszkańców miasta, nie tylko osoby duchowne, ale także arystokratów i mieszczan. Najstarsze katedralne krypty, dwie z trzech, w których spoczywają członkowie rodu Tarnowskich, zlokalizowane są pod podłogą kaplicy Rozesłania Apostołów, z kolei najbardziej znane to dwie krypty Tarnowskich i Ostrogskich w prezbiterium, nad którymi znajdują się grobowce członków obydwu rodzin, w tym hetmana Jana Tarnowskiego zmarłego w 1561 roku. Największa krypta znajduje się pod nawą główną, dwie ostatnie to krypta pod kaplicą Świętego Krzyża oraz, udostępniona od kilku lat do zwiedzania, krypta kanoników kolegiaty pod chórem muzycznym w kaplicy Świętej Anny, w nawie północnej, w której spoczywają: zmarły w 1642 roku Andrzej Tarło, prepozyt kolegiaty a także biskupi Grzegorz Wojtarowicz i Jerzy Ablewicz, arcybiskup tarnowski zmarły w 1990 roku. Do tej krypty w marcu 2009 roku sprowadzono szczątki dwóch biskupów tarnowskich: Franciszka Lisowskiego i Jana Stepy. Bp Franciszek Lisowski, spoczywał wcześniej na cmentarzu w Tarnowie-Krzyżu, natomiast bp Jan Stepa w krypcie kościoła pod wezwaniem św. Józefa i Matki Bożej Fatimskiej w Tarnowie.
W podziemiach nawy głównej i bocznych kaplic chowani byli mieszczanie tarnowscy, przedstawiciele miejskiego patrycjatu, członkowie rodzin kupieckich czy rzemieślniczych. Plebs natomiast spoczywał na cmentarzu obok kościoła parafialnego, czyli obecnej katedry. Dopiero w XVIII wieku sytuacja się zmieniła, skasowano cmentarze przykościelne, w Tarnowie założony został cmentarz zwany dzisiaj "Starym", zabroniono również pochówków w kościelnych podziemiach, aczkolwiek były pewne wyjątki. Najprawdopodobniej po to właśnie, by przekonać tarnowian do nowego wówczas miejsca pochówków poza terenem miasta na cmentarzu na Zabłociu, kazał pochować się pierwszy tarnowski biskup Florian Amand Janowski, którego grób do dziś znajduje się obok kaplicy Sanguszków. Jego niektórzy następcy pochowani zostali jednak w kryptach katedralnych. Tak właśnie stało się na przykład z dwoma tarnowskimi arcybiskupami - Leonem Wałęgą i Jerzym Ablewiczem. Grzegorz Wojtarowicz, biskup – wygnaniec, usunięty z Tarnowa przez Austriaków w czasie rabacji za krytykowanie władz zaborczych i zmarły w 1875 roku w Krakowie, pochowany został w podziemiach katedry w 1975 roku, w sto lat po śmierci.
O ile wszyscy zwiedzający katedrę oglądają imponujące pomniki Tarnowskich i Ostrogskich, o tyle mniej znany jest pomnik jedynego pochowanego w bazylice przedstawiciela rodziny Sanguszków. Jest nim książę Eustachy, zmarły w 1903 w Gries w Tyrolu, namiestnik Galicji i marszałek Sejmu Galicyjskiego. Jego marmurowy pomnik, dłuta Antoniego Madejskiego, znajduje się w kaplicy Najświętszego Sakramentu. Pozostali członkowie rodziny Sanguszków związani z Tarnowem, pochowani są w kaplicy na Starym Cmentarzu.
W XIX wieku oglądał katedralne krypty i opisywał je ksiądz Wincenty Balicki, autor najstarszego, pochodzącego z 1831 roku opracowania poświęconego historii i topografii Tarnowa. Okazją do otwarcia podziemi był remont katedry wykonany w czasie, gdy biskupem ordynariuszem był Grzegorz Tomasz Ziegler, czyli w latach 1822 - 27. Właśnie w 1827 roku odkryto w kaplicy świętego Benedykta w nawie południowej wejście do podziemi, i znaleziono trumny książąt Ostrogskich. Wincenty Balicki szczegółowo opisuje kolejne znajdujące się w kościele groby, cytuje łacińskie epitafia, przekłada je na język polski, cytuje opinie na temat ich architektonicznych walorów, czasem przedstawia także własne w tej sprawie poglądy. Opisując kryptę Ostrogskich wymienia nawet przedmioty, które podczas remontu odnaleziono: - ...znaleziono dwie trumny cynowe pięknej i mocnej budowy, s trzema innemi drewnianemi, w których prócz sukien jedwabnych dość jeszcze zachowanych, czcigodne tylko prochy znaleziono. To są szczątki książąt Ostrogskich; prócz pierścieni małej wartości, gwoździ grubo wyzłacanych, krzyża cynowego na trumnie księżnej, nic więcej znaleźć nie można było.
Więcej pamiątek, bo m.in. złoty łańcuch, i takiż medal wielkości talara, ważący 48 dukatów, a także dwie srebrne, grubo pozłacane blachy, odnaleziono w grobowcu Tarnowskich. Pisząc o pomniku grobowym Ostrogskich, ksiądz Baliński cytuje również opinię cesarza, który oglądając katedrę w roku 1817 miał stwierdzić, że "godny by był mieścić się w samym Wiedniu", sam jednak ma ten temat inne nieco zdanie: -... Po wszystkich stronach unoszą się posągi alegoryczne, jeniusze śmierci, kościotrupy, lwy i t.d. wszystko rzeźbą najdokładniejszą z przedziwnego alabastru. Nagrobek ten byłby tem piękniejszy, gdyby podobnymi posągami zbytnio nie był przeładowany...". Najciekawsza jednak relacja Wincentego Balickiego dotyczy pomnika Barbary z Rożnowa, wnuczki Zawiszy Czarnego, matki hetmana Jana Tarnowskiego. Opisując pomnik, ksiądz Balicki cytuje i w tym przypadku łaciński napis, zawierający nieprawdopodobny wręcz błąd w dacie śmierci. Otóż Barbara z Rożnowa żyła lat 70, po jej śmierci pomnik ufundował hetman, co zanotowano na tablicy nagrobnej: - ...Jan hrabia na Tarnowie matce najukochańszej położył... Tymczasem Wincenty Balicki zwrócił uwagę, iż data śmierci na pomniku to roku 1417. Jan Tarnowski, przyszły hetman urodził się w roku 1488, jego matka nie mogła więc umrzeć kilkadziesiąt lat wcześniej. Pomnik powstał krótko po śmierci Barbary, aż niewiarygodne wydaje się, by syn fundując pomnik pozwolił rzemieślnikom na takie niedopatrzenie. Z drugiej strony trudno posądzić o pomyłkę księdza opisującego rzetelnie wnętrze tarnowskiej katedry, tak jak je oglądał w latach trzydziestych XIX wieku. Dziś weryfikacja tej pomyłki nie jest już możliwa, napis na pomniku w prezbiterium jest prawidłowy, data śmierci matki hetmana to rok 1517. Jeżeli rzeczywiście przez ponad 300 lat nagrobne epitafium Barbary z Rożnowa zawierało literowy błąd, poprawiono go prawdopodobnie podczas renowacji.
09.12.2011