Zespół nadpobudliwości psychoruchowej - "Makbet"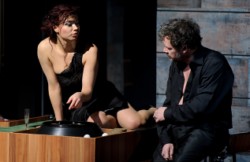 Jak mawiał klasyk, czyli prezes Ochódzki Ryszard, naszego klubu "Tęcza", ten spektakl ma swoje plusy, ale te plusy nie mogą przesłonić nam minusów. A szkoda, bo przedstawienie "Makbeta" w tarnowskim teatrze mogłoby być naprawdę wydarzeniem, gdyby nie pewne objawy ADHD, przynajmniej u niektórych jego twórców.
Wiele rzeczy podobało mi się gdy oglądałem tarnowskiego "Makbeta". Przede wszystkim podobał mi się Makbet. Ireneusz Pastuszak "ciągnie" cały spektakl, kiedy go widzę i słyszę wiem, że jestem w teatrze. Podobały mi się wiedźmy - i nie dlatego nawet, że były "szpetne inaczej", ale dlatego, że potrafiły stworzyć tercet, który wspólnie działa i razem pracuje na efekt końcowy, co nie jest dziś w teatrze regułą. Podobała mi się bardzo muzyka Łukasza Borowieckiego i songi śpiewane przez Ewę Cypcarz-Bogucką, ułożone ze słów Szekspira. Generalnie uważam, że premierowe przedstawienie było dobrze zagrane i to kolejny jego atut. Z jednym smutnym wyjątkiem. Pojawiający się w dwóch scenach w roli Duncana Mariusz Szaforz nie gra króla, ale Marlona Brando, który uciekł z planu "Ojca chrzestnego", albo - jeśli już króla - to Ubu. Tej roli autor nie zapisał w swoim tekście, wydaje się ona być ona raczej pomysłem reżysera, a efekt jest taki, że po obejrzeniu Duncana nie jestem przekonany, że to król, którego należałoby zachować przy życiu dla dobra kraju i poddanych. Przeciw tej klasy władcy sam mam ochotę zawiązać spisek.
Generalnie pomysłów jest w tym przedstawieniu zdecydowanie za dużo, oznaki pewnej nadpobudliwości widać zarówno u reżysera, jak i scenografa. Żeby znaleźć się w świecie bohaterów Szekspira nie potrzeba mi przesuwających się ścian, lejącej się z prysznica wody, stołu do ruletki, jednorękich bandytów oraz przemarszów z widowni na foyer i z powrotem.
Gdyby jakaś tajemnicza miotła lub bomba pół godziny przed premierą wymiotła ze sceny trzy czwarte dekoracji, strata, w moim przekonaniu, byłaby niewielka.
Rozumiem, że dziś Szekspir wystawiany "po bożemu", w zbrojach, przy mieczach i wyłącznie w poetyce moralitetu byłby mało interesujący. Za dużo wydarzyło się na świecie od 1606 roku, by skala 1:1, była dziś dobrym kluczem do Szekspira. Ale też liczba gadżetów nie musi być wprost proporcjonalna do efektu końcowego. Szkoda, że reżyser Rafał Matusz i scenograf Hanna Szymczak nie zaufali bardziej autorowi, aktorom i twórcy przekładu, Stanisławowi Barańczakowi.
Mimo tych zastrzeżeń, zachęcam do obejrzenia "Makbeta" w tarnowskim teatrze. Nawet jeśli to nie tyle elżbietański, co trochę postmodernistyczny władca.
26.12.2011