Co ty wiesz o miłości - "Balckbird"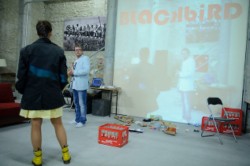 Kiedy na scenie tarnowskiego teatru Matylda Baczyńska śmieje się perliście i długo – mnie na widowni wcale nie jest do śmiechu. I zapewniam, że to wystarczający powód, by poświecić 100 minut w życiu i obejrzeć tarnowski "Blackbird" w reżyserii Tomasza Gawrona.
Spotkania po latach bywają różne. Rytualnie kończą się formułkami "musimy się kiedyś zdzwonić", albo "musimy usiąść i pogadać", wygłaszanymi ze swobodą wynikającą z przekonania, że ani się nie zdzwonimy, ani nie pogadamy. Spotkania byłych kochanków zaliczają się do innej jednak kategorii. Bywają trudne. Nie tylko dlatego, iż zaklęcie o tym, że musimy się zdzwonić, często w takich sytuacjach nie działa. Kiedy, jak w sztuce "Blackbird", spotykają się po kilkunastu latach kobieta, która przeżyła inicjację seksualną w wielu lat 12 i mężczyzna, który był jej pierwszym kochankiem, powietrze jest tak gęste, że można je kroić nożem.
Są ludźmi po przejściach. Ona (Matylda Baczyńska) po praniu mózgu aplikowanym po to, by wyszła z nieistniejącej traumy, on (Ireneusz Pastuszak) po kilku latach więzienia za uprawianie seksu z nieletnią. Teoretycznie ułożyli sobie życie, ale wciąż mają sobie coś do powiedzenia. On bardziej skłonny jest odciąć się od przeszłości. Zmienił nawet imię i nazwisko, co na niewiele się zdało, bo ona zobaczyła jego zdjęcie w gazecie i przyjechała porozmawiać, a nawet wejść drugi raz do tej samej rzeki. Łączy ich świadomość, że nic złego nie zrobili, choć tzw. świat ma ten temat zupełnie inne zdanie.
Inauguracja Sceny "Underground" w tarnowskim teatrze wypadła moim zdaniem bardzo udanie. Pierwszą i niewątpliwie absolutną zaletą spektaklu jest tekst Davida Harrowera. Autor ani przesadnie nie moralizuje, ani nie udaje, że zna proste odpowiedzi na trudne pytania, ani nie narzuca interpretacji własnej. Ocenić fakty i wydarzenia opisane w sztuce mają widzowie.
Drugą zaletą tarnowskiego spektaklu jest aktorstwo wykonawców. Kiedy na scenie "pijana" Matylda Baczyńska śmieje się perliście i długo – mnie na widowni wcale nie jest do śmiechu. Z kolei bohater grany przez Ireneusza Pastuszaka poraża swoją bezradnością. To nie demoniczny Mefistofeles pogrążający kolejne ofiary, ani odrażający zboczeniec, który aż się prosi o karę. To zagubiony pan w średnim wieku z przylizaną grzywką i w niemodnych okularach. Obydwoje natomiast tworzą wspaniale uzupełniający się duet.
W tym spektaklu nic nie jest oczywiste, za to wiele w nim tajemnic. To kolejna zasługa jego twórców. Zwykle to, co wiemy o miłości - wiemy dla siebie. Dlatego "Blackbird" w Tarnowie należy obejrzeć, a nie czytać cudzych opinii.
Piotr Filip
30.05.2012