Matrix w skali mikro - "Brzydal"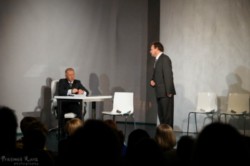 Wszyscy już wiedzą, że czasy, gdy mężczyźnie wystarczyło być trochę ładniejszym od diabła odeszły dawno w przeszłość. W takim razie zapraszam do tarnowskiego teatru na "Brzydala" - czyli opowieść z gatunku: "Znacie? To posłuchajcie." I obejrzyjcie oczywiście, bo naprawdę warto.
Pewnego dnia pracowity i niegłupi pan w średnim wieku dowiaduje się od szefa, że nie będzie mógł reprezentować firmy w kontaktach z klientami, bo jest na to za... mało przystojny, żeby nie powiedzieć brzydki. Zainteresowany jak zwykle dowiaduje się ostatni o tym, co dla wszystkich, z żoną włącznie, jest oczywiste. W tym miejscu rozpoczyna się historia brzydala – tytułowego bohatera sztuki niemieckiego dramaturga Mariusa non Mayenburga.
Nie jest to jednak wyłącznie opowieść o tym, że brzydkim jest trudniej osiągnąć sukces, ani o tym, że z brzydkiego kaczątka także może wyrosnąć zblazowany playboy. Chodzi również o to, że rzeczywistość już dawno oszalała, o czym właściwie wszyscy wiemy, ale często staramy się o tym zapominać. Z tych samych dokładnie powodów, dla których dawno już nie wiemy skąd wiemy, kiedy i dlaczego biel staje się jeszcze bielsza, dlaczego ważne jest co jeden pan powiedział o drugim panu, albo które lekarstwo nawet umarłego postawi na nogi, pod warunkiem oczywiście, że zapozna się z treścią ulotki dołączonej do opakowania.
Lepiej jest żyć ze świadomością, że ciężką pracą i metodą wolnego wyboru dorobiliśmy się własnych, oryginalnych, ważnych oraz mądrych przekonań i poglądów, niż zaakceptować otaczający każdego z nas mini-matrix, rozpoczęty gdzieś w wieku przedszkolnym, a kończący się zupełnie nieszczerymi przemówieniami nad mogiłą.
W Ameryce mówią podobno, że w wyborach startować muszą wysocy, szczupli, wysportowani ładnie uśmiechnięci i świetnie ubrani faceci – na szczęście jednak nie ma to większego znaczenia. Bo w ich biurach pracują ci łysi, grubi kurduple, na których nikt nigdy nie odda głosu, ale dzięki ich głowom ten świat jeszcze jakoś toczy się do przodu.
Czego sobie i Państwu, a zwłaszcza panom, życzę.
Tyle o idei, teraz trochę o teatrze. Spektakl wyreżyserowany przez Łukasza Fijała polecam z czystym sumieniem. Reżyser oraz wszyscy aktorzy – Ireneusz Pastuszak, Ewa Sąsiadek, Tomasz Piasecki i Aleksander Fiałek – dobrze znaleźli się w tym przestawieniu, a przede wszystkim sprostali wyzwaniu jakie postawił przed nimi autor, każąc grać kilka postaci i zmieniać się w innego bohatera niemalże ze zdania na zdanie. Nie wiem jedynie, czy założenie, że wszyscy widzowie nadążą za tempem tych metamorfoz nie jest zbyt optymistyczne. Aktorzy grają ze sobą, na scenie widać ludzi partnerujących sobie, a nie gęsiego idących po swoje. Przed premierą jeden z wykonawców mówił, iż osobom związanym z tarnowskim teatrem zależy na tym, by stworzyć tu dobry zespół. To oczywiście dobrze, a "Brzydal" zdaje się potwierdzać, że zrobiono kolejny krok we właściwą stronę.
Piotr Filip
05.12.2012