Całkiem jak bajka... - Lokomotywa II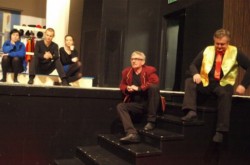 W uroczym stylu Mariusz Szaforz przywrócił na deski tarnowskiego teatru spektakl dla najmłodszych "Lokomotywa II". "Dwa" dlatego, że co starsi widzowie pamiętają graną kilkanaście lat temu "Lokomotywę", ale ani Tuwim ani Brzechwa, ani Fredro nie tracą przecież nic z upływem czasu. A w dobie "Pingwinów z Madagaskaru" czy "Epoki lodowcowej" warto wrócić do pisanych staranną polszczyzną, pięknych naszych bajek.
W przygotowanej przez Macieja Srokę scenerii placu zabaw, a więc świata znanego i przyjaznego najmłodszym, Mariusz Szaforz wyreżyserował spektakl "Lokomotywa II". Spektakl, którego motywem przewodnim jest tytułowa lokomotywa, to po prostu zestaw pięknych polskich wierszowanych bajek, takich z prawdziwego zdarzenia – z morałem. Ich autorów rekomendować nie trzeba: Tuwim, Fredro, Brzechwa, Konopnicka, Jachowicz - ten zestaw nazwisk gwarantuje przyswajalność tekstu przez dzieciaki oraz ład i porządek w małych główkach.
Nie ma tu głównych bohaterów, bo głównych ról jest pięć, choć wydaje się, że aktorów jest znacznie więcej. To wrażenie potęgują coraz to nowe kostiumy, przygotowane przez Krystynę Szaforz. Cała piątka aktorów bez przerwy jest kimś innym i cała piątka wydaje się bawić przedstawieniem równie dobrze, jak widownia. Bawi się więc Bogusława Podstolska jako Kaczka Dziwaczka, Pchła Szachrajka i skazana na plotki Zięba, bawi się Monika Wenta-Hudziak alias Zosia Samosia alias kąpiąca się Małpa alias wdzięcznie kręcąca kuperkiem Czapla, która nie chciała Żurawia. Bawi się Piotr Hudziak jako niechciany Żuraw i niesforny Gaweł, bawi się wreszcie Jerzy Pal, który pojawia się jako Słoń Trąbalski, Szerszeń, Paweł czy Pan Słowik, ale za rolę, jednego zresztą z wielu, Murzynków Bambo, powinien bez wątpienia otrzymać jakąś nagrodę. Za wdzięk i grację w ruchach. A zobaczyć Mariusza Szaforza zjeżdżającego ze ślizgawki? - bezcenne.
Bajkom towarzyszy muzyka. Ale nie byle jaka i absolutnie nie infantylna, a taka często wykorzystywana jest w spektaklach dla dzieci. Porządna muzyka ze słynnym motywem z "Ojca Chrzestnego" włącznie, choć wydawałoby się to nie na miejscu. Ale cóż lepiej, jak nie ten porywający motyw, oddać może rozedrgany niepokój Pani Słowikowej, której ukochany Pan Słowik spóźnia się na kolację, a nie spóźniał się nigdy wcześniej? Tylko "Ojciec Chrzestny"!
Ślicznie, prosto, kolorowo, a przy tym bardzo solidnie i z sercem przygotowany spektakl dla najmłodszych, na który każdego malucha można śmiało zabrać. A przy tym samemu sobie zrobić wielką przyjemność. W trakcie spektaklu pewna mała osóbka siedząca nieopodal mnie z niejakim zdumieniem stwierdziła, że "to wygląda całkiem jak bajka". I niech to będzie najlepsza recenzja.
Dorota Filip
07.12.2012